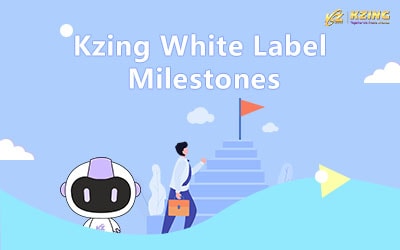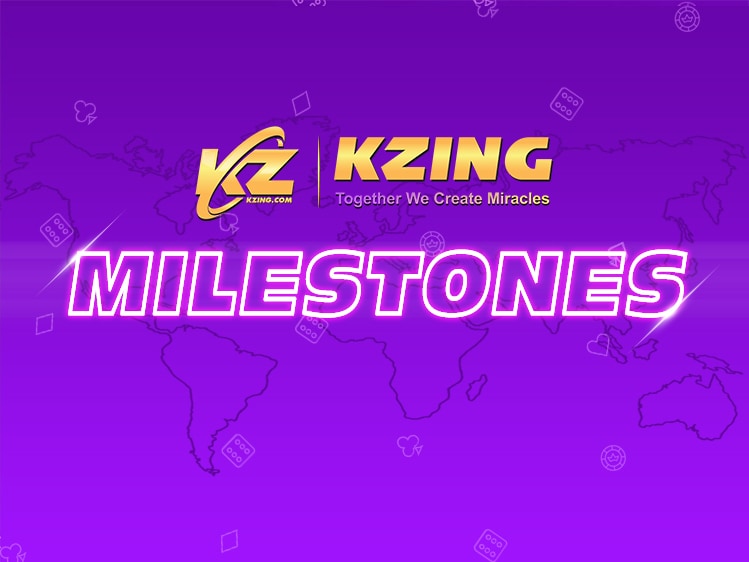 Kzing Milestones
In the recent couple of years, the number of white label service providers have been increasing gradually. Some companies transformed from gaming development to white label service provider. Some also transformed by integrating upstream & downstream system into a new system to provide one-stop solution to the clients. However, they're only a handful of companies that can truly provide quality & up-to-standard white label service. As for our company, Kzing has already heavily invested our time & money into the gaming & betting back-end system since 2012.
Services from white label is the first and foremost step in creating your very own betting platform, Kzing White Label can help you in starting the first step. Our company not only have strong back-end & technical support, we have also third-party payment service provider as well as different variety of games providers. The whole process consists of setting up your website, providing server & defence system, binding domain & a series of web security & system support.
As the time goes by & technology advances, in the year of 2016, Kzing has successfully launched mobile APP & simultaneously enhanced and strengthen the back-end system structure & anti-hacking system. In these recent years, Kzing has also matured the growth in the iGaming industry, non-stop providing newer and innovative solutions & products, such as launching into the Asian market, supporting more currencies & languages. The whole system is more focused towards the User's Experience, ensuring smooth operation & also providing personalized designing service. According to the market trend, Kzing has also developed our very own Sports APP to provide a win-win hassle-free solution for both dealers & players.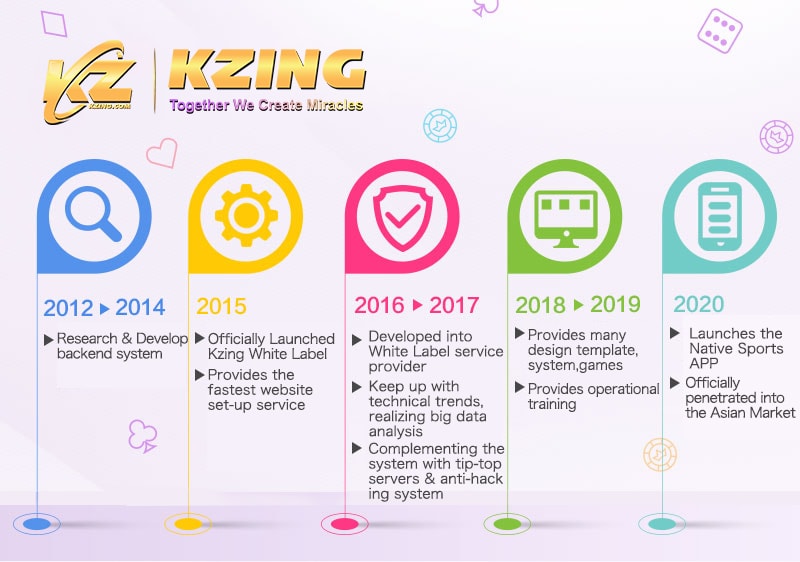 2012-2014
The Starting Point of Kzing White Label
White Label Service Providers are still new & immature in the industry
Kzing starting to heavily invest into researching & developing a true betting companies' system and structure
With enough research, analysis & planning, Kzing launched Kzing White Label System in 2014
2015
Breaking the Traditional Barrier
Kzing White Label Officially launched
Releasing gaming system within a short period of time
Enhanced website development process flow, providing the fastest website set-up service
2016-2017
Strategic Collaboration with IM
Collaborating with gaming platform supplier IM, developing ourselves into a true white label service provider supply one-stop platform in order to achieve an efficient operation mode
First to launch the mobile APP which then well received within the industry
Keep up with technical trends, realizing big data analysis
Kzing White Label heavily invested in developing their back-end system, deeper enhancing Kzing White Label's structure, big data analysis, complimenting Kzing White Label's service with world-class servers & cloud computing technology
Collaborating with top CDN tech companies to provide the best & smoothest network condition.
First white label company to provide SSL anti-hack tech
Launching multi-currency & multi-language system
Having great & trustworthy reputation within the industry, help many clients to create their own entertainment platform
2018-2019
The ONLY One-Stop White Label Service Provider in the Industry
Kzing White Label provides full assistant in setting up the operation point which includes free operational training, workplace & also one-to-one consultation
Fully support on operational set up
Trendy front-end design template
Research & develop more ergonomic systems
Integrate more games
2020
Collaboration with IM to launch the native Sports APP
Launches the Sports APP according to the trend, get prepare for the upcoming sports leagues.
Officially penetrated & starting operations in the Asian Market.
Discover the market's potential, prepare enough resources & lead our clients to discover the brand-new market.
The Asian market includes, India, Indonesia, Thailand, Vietnam & etc.
First launched newly developed products & service within the industry
Research & develop a new system to improve the overall system
Enhance the existing back-end system, promotion system & etc
Deeply innovate APP user experience
Enhance front end template design
Launches cryptocurrency payment gateway
Kzing White Label invested a significant amount of money, time & talent to develop ourselves into what we are today, which enables us to provide our clients with a smooth & stable security throughout the operation of the website. We are happy and proud to grow alongside our clients throughout this journey.