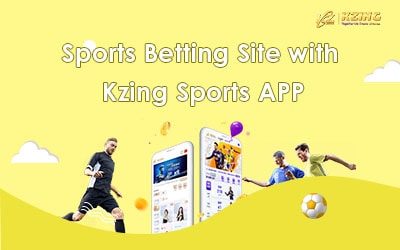 If you have the budget to invest in a sports betting online business, but don't know where to begin, here are some tips for getting started.
A sports betting website can't be bought like a brand-new car or appliance. Also, it is time-consuming, and you don't want to spend a lot of money or time setting up your website.
This is why we have put together this guide to help you create your sports betting website at the end of this article.
Did you know that according to Statista's Mobile Gaming Market Outlook, the Asian online gambling market is expected to reach US$1.96 Billion in 2022? Over the forecast period, it is estimated to reach US$2.88 Billion by 2026, growing at a CAGR of 10.09%.
The Rise of Mobile Gaming in The Gambling Industry
With more people spending more time on their mobile devices, remote gambling developers and platforms are taking advantage of this trend to expand their customer base.
This is even more evident after COVID lockdown periods, where physical presence isn't as favourable as before, and this presents exciting opportunities for online entertainment. Hence mobile gambling flourished.
Mobile gambling is rapidly growing in the Asian market. If you're looking to start an online gambling business, keep reading because we've got the steps necessary to create a successful sports betting website.
How to Create a Betting Website? The First Step: Market Research
Before starting any project, conducting thorough market research is a good idea, especially if you want to be sure and confident about your venture in the long run.
You will want to figure out what the competition is doing and what they are missing out on so you can be sure that you will offer something unique.
Here are some things that you should have on your market research checklist:
Market analysis and a clear vision. Understanding how your potential players will approach your website is important so you can design it accordingly.
What is your customers looking for? This is done by conducting surveys and listening to what customers are saying. For instance, what sports games do they like to bet on, like cricket, a national sport in India, or do they prefer basketball or soccer?
Language. Their preferred language plays a significant role. The potential player would not hang around if the site's language was foreign to them and would not place bets.
Competition analysis. Know who your competitors are and what makes them different.
Customer motivations. It's also important to understand what motivates your players to place bets, as well as what the features and benefits that your website have.
SWOT analysis. A SWOT analysis of your competitors, their marketing promotions, customer services, features, and marketing advertisements can help you have the upper hand in the gambling industry. It helps to differentiate and find out unique points in the market.
A betting site has risks and cannot be built without risk management. There are many different aspects to consider, including membership support, fraud prevention, and payment processing. It is a must to track and confirm everything is working as expected.
Whether it is ensuring that there are no vulnerabilities on your website or mobile application that could be exploited by hackers or ensuring that user information is always secure, we can equip your platform with strategies to manage these risks and ensure all aspects of your platform are secure.
By ensuring your site has all the best features, you can increase their confidence in players and encourage them to have more confidence in betting on your site.
How Much Should You Budget for Your Sports Betting Website?
A lot of people start creating a sports betting website without knowing what they're going to need or how much it's going to cost them. They spend a lot of money just to get started but can't achieve their expected revenue.
By planning and budgeting for creating an online betting website, you'll be able to ensure that you're not going to overspend or let your online betting site be a financial disaster.
You need to understand how much it will cost to start a betting site and how much you can earn in the future. You also must consider how long it will take before you can start taking in profits.
So How Much Does It Cost to Start a Sports Betting Site?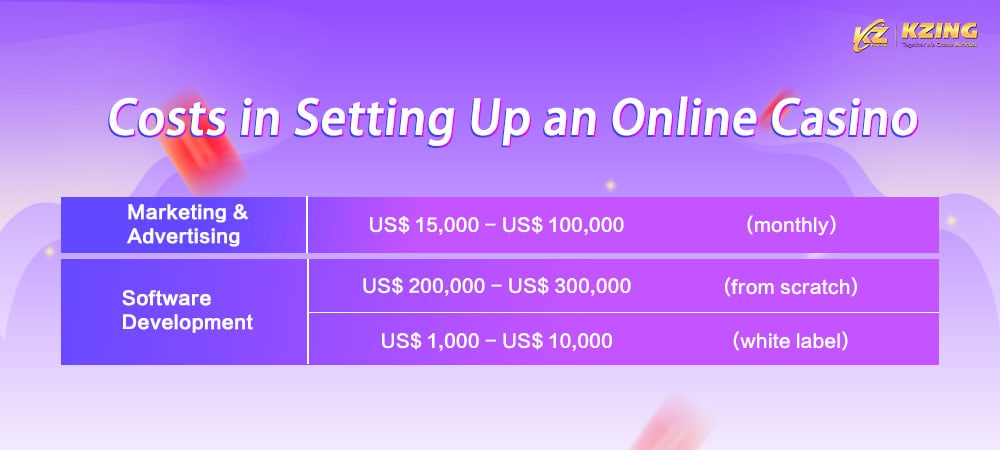 It depends on your marketing strategy and operation cost. It's not just about finding initial capital to fund software development when opening an online casino. Your online betting platform must includes maintenance fee, invest in marketing, optimize service quality to find and retain new players, and develop features that differentiate it from competitors.
Online betting business require many factors to be considered, including website development, gambling games integration, payment gateway integration, app configuration, marketing, and staffing.
Typical costs include software development, marketing budget, and staffing. To manage everything on a gambling site, there are at least 8-10 full-time staff members with 8 to 12 daily working hours in the finance department, the human resource department, the administration department, the technical and operations department, & the marketing department.
For white-label options, you will need to pay for monthly maintenance and royalty fees (depending on the amount you agreed to pay back)
An additional risk management division will be necessary during the company's growth. A higher budget could be allocated for shifting rotation, allowing for hiring up to 24 employees to ensure that you have ample employers to handle the dealings around the clock.
Many online gambling development companies now offer more economical quick-start options; a custom website can cost up to 5,000 Euros, which includes the App with your own logo and name, CDN, hosting, and management.
Options for Developing Your Sports Betting Website
Completely Customised Sport Betting Site Building from Scratch
Suppose you are unfamiliar with getting started with your sports betting website. In that case, you can hire a software development company specializing in custom web design that also understands the sports betting niche.
These companies have experts who will work with you to develop a website that will fit your needs. Their experienced software developers will give your ideas for what kind of online betting platform you want to create and help you create it.
In addition to a website, you can extend the functionalities of your betting platform to have more features that make it easier for players to place bets, such as a convenient mobile app.
You will be able to have complete control of the development process and will be the owner of the program code since you are the one who ordered and paid for it.
However, this could be a huge investment that could cost 300K to 3 million dollars. It would be best to first speak to the development team to determine their development process and cost. Once you have a good idea of the development process and cost, you can make an informed decision about whether to invest in the project.
Having a completely customized solution also may take longer development time as there can be delays in between as decisions changes, and there is generally more planning and forethought needed.
There may also be higher risks since the software may crash and encounter bugs that may take a long time to fix. Because of the face-paced action and the monetary betting, there can be no room for errors as they can greatly impact the game's outcome and your customer's confidence in your platform.
Using White Label Service Providers like Kzing
You can also consider launching your sports betting website through white-label service providers like Kzing.
This will be the best choice if you are on a limited budget yet want to be cost-effective simultaneously. The price to build a gambling platform with us can range from $0 to $5000 depends on the complexity. You would also need to pay a certain percentage of gross income or profit (depending on the terms), therefore not much additional cost from your end.

There are many advantages to using them; one is that Kzing knows how to work within the online betting setup and is proven in the market – knowing exactly what is needed and can give you helpful guidance and advice to kick-start your online gambling business.
You can build your website faster and easier with helpful solutions. Kzing can launch your sports betting site in a matter of 7 to 14 working days.
With a white-label service provider, you can focus on more important aspects of the business while the company takes care of the design and development of the site. You can focus on ideation and growing your business network when you outsource your work to a gambling platform solution provider.
Become an Agent or Affiliate
Being an agent or affiliate of a sports betting website is advantageous because most affiliates are paid to promote online betting websites, and some of these websites pay out up to $20,000 a month (or the sky is the limit).
Affiliates don't need to fork out money to develop a sports betting site but only focus on marketing and making money. There is no set fee to become an affiliate marketer for an online betting website, but most likely, affiliates will need to invest in some advertising campaign to generate leads and traffic to the affiliate's website.
They earn incentives through referral fees and commissions from winning and losses or top-up amounts, depending on the affiliate model.
There are a few types of agent and affiliate models in the sports betting gaming industry. And in Kzing, our system includes affiliate model. There is a single-tiered structure and a multi-tiered structure.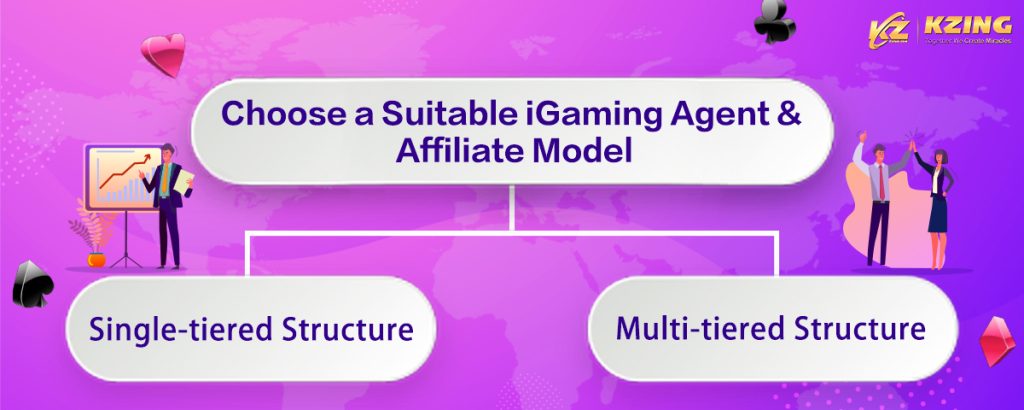 Multi-tiered structure are pyramid-style models that can extend to multiple levels, such as shareholders, general agents, first-level agents, and second-level agents. Most micro businesses in Southeast Asia follow this model, where the agent with the highest level receives the highest overriding commission percentage. Incentives will be distributed directly to agents, encouraging them to recruit new players.
Single-tiered structure refers to a business model that brings in new players through referrals from friends. Rebates and points are usually awarded to tagged players based on their betting amounts. Each player serves as both an agent and a player simultaneously. Together, players will work to bring in new players and improve the website's popularity.
How to Select the Right Payment Providers When Creating Your Sports Betting Website
Most people who create sports betting platforms don't focus on payment systems. They want to get up and running, but this isn't the best strategy.
Payments are the key to creating an online betting website that will generate cash flow, and selecting the right payment system should be your priority.
However, finding a reliable provider for the gambling industry may be challenging. Several reasons for this include high volume turnover, fraud and money laundering risks, heavy site traffic, and unsettled chargebacks.
An effective way is to offer a variety of payment solutions. This will enable players to choose the payment method that works best for them so that players can easily and quickly deposit and withdraw money from your platform
Here is a list of important criteria when you are selecting the best payment providers
Fast transfers and reasonable fees.
Fast transfer and reasonable fees are important when selecting the right payment providers. This means that your website won't be overloaded and will take too long to load when someone wants to make a bet or place a wager.
Different payment methods
Providing your players with different payment methods is also important for their convenience. Payment methods currently used on the market include:
Digital wallets – linked cards or cryptocurrency integration (BTC, USDT, ETH, etc)
Bank transfers
Secured multi-currency payment gateways
High level of security
Online betting websites deal with sensitive information about their bettors, such as their names, bank details, and other personal data.
As a result, the sites employ several security measures to keep your data secure and safe. These include SSL encryption, a secure server, a firewall, an anti-virus program, a private network, and an IP address unique to every website user.
What Are the "Must Haves" Features of a Mature Sports Betting Website
Sports News
If you're planning to launch a new sports betting website, it's better to find out which sports news sites are popular and find a way to implement these updates on your site too
It is important to have a wide sports league coverage page. It should display team and individual player information as well. You can also include statistics about the games your players are interested in. You must consider that some sports fans may be very particular about their team or player. This page should also display match schedules too. This will help your player keep track of the timings so they can be prepared to place their bets on their favourite sporting event.
You should also include live broadcasts of games & matches where they don't have to go off your website to watch the game. All can be done internally, and they can also monitor the status of their bets.
Players love to be informed, so having an info board of tournament stats is useful. They can use it to research and study before they place their bets.
Implementing push-up notifications is important so that important announcements are not missed.
You would want to always keep them on your site by providing sports news directly on your betting website so users can learn the scores and place a bet in a few clicks without leaving the platform.
Diverse Range of Sports

A wide selection of sports keeps bettors glued to a platform. Additionally, it allows novice bettors to get a feel for the games and determine what suits them best.
Football is a profitable niche that is currently reaching new heights. New football betting sites are springing up all over the place, and they're doing quite well.
For a iGaming platform to be outstanding, it must have the most popular games in its region, especially localised sports games.
With Kzing, you can bet on more than 30 sports, including cricket, football, basketball, hockey, badminton, and more.
Live Betting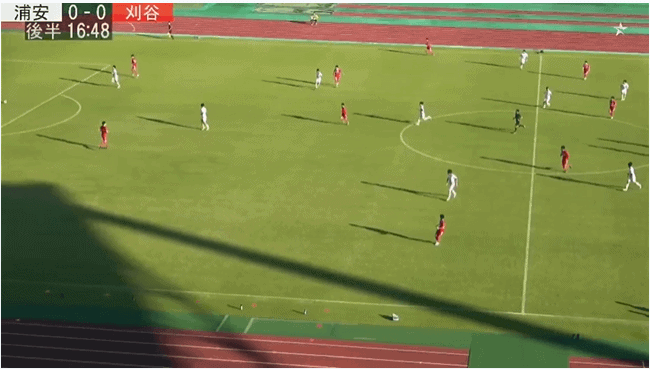 Live betting is exciting and vital for all online betting websites as it allows players to bet without any worries about the game being fixed.
This function must be as easy and as fast as possible. But what is the best way to make betting seamless?
Firstly, set up the payment system so that users don't have to enter their payment information details each time (the system must have an option to "remember" this information).
Next, add as many types of bets as possible to provide users with a wide variety of bets and opportunities to win money and have fun.
Finally, ensure the website offers live betting on all major sports so players can bet on matches they like. The most important thing is that the live betting site must be highly responsive and fast.
High-end Betting Stats & Analytics
Players like to look at numbers and statistics to form their analysis.
To make informed bets, we can integrate analysis tools that facilitate football betting so that members can analyse competition statistics and information.
You should also provide players with the ability to place bets on more than one game simultaneously.
Bid Results
At the end of the game, everyone will look at their bid results.
It is best practice to include a comprehensive dashboard software for football betting. It allows members to view their bets and competition results at any time.
Real-Time Settlements
Real-time settlements are a great way to increase user engagement on your website. It keeps bettors coming back when money is transferred in real-time.
Multi-Language Support
With online betting website, you will attract players worldwide. Therefore, it is essential to be inclusive so players feel welcomed and comfortable.
When you create a site to support players in different countries, make sure that it also supports multiple languages based on their country of origin.
Registration & Profile Management
Players love to keep track of their progress, so assist them on their journey. It will also allow you to keep track of your players' profiles and account stats.
Your player management panel should be easy for each player to create an account and manage their information accordingly.
Besides effectively managing player information and payments, it should allow clients to view players' account details, transaction history, and rank settings.
To increase loyalty by personalizing the platform's interface, here is some "must haves":
Bet Records
Redemption Records
Rebate Records
Transaction Records
Fund Management
Your admin panel should also have fund management features where players can conveniently read transaction reports to know their transactions.
The management of winnings and payments statements should also be as transparent, updated, and clear as possible so that players can focus on betting and not on deciphering fund reports.
Data Reporting System
It is also best practice to provide your company report, agent report, player report, and game report on demand for players (especially new curious on-lookers) to gain their trust and promote accountability.
It is good practice to share findings from big data analysis. Analysing and learning from big data enables clients to take appropriate actions or switch to alternative strategies to increase profitability quickly.
Don't forget to allocate a budget for marketing, as outstanding marketing is one of the main success factors.
24/7 Customer Support & CRM
With betting going around the clock, it is important to have a 24/7 team ready to support your customers. You should also have a Customer Relationship Management (CRM) to ensure that your customer's needs are well attended to.
Smooth Top-Up & Withdrawal System
Online betting websites must have a system that allows users to top-up and withdraw funds safely.
To make your players happy, make sure your system makes withdrawals as easy as possible. There is also the need to have an easy-to-use payment transfer system that will enable players and merchants to transfer money between their accounts.
Security Measures
A glitchy platform or a lack of security may cause your customers to switch to a competitor. To ensure safety, protect privacy, adhere to security regulations, and provide a secure environment for bettors, it's essential to comply with these regulations. Here are some that you should take into consideration:
Anti-hijack software (Defending against hacker attacks, DDOS scam attacks)
Super Intelligent Risk Control (Anti-Fraud)
Player login protection
SSL authentications (Anti-Hacking)
Data recovery system (Data recovery after any data loss)
User authentication (Only allow logged-in users to play)
Compatibility Issues
When you create a website with Kzing, you know you are in good hands. Kzing utilizes big data for real-time monitoring to prevent hackers from breaching the systems so that it stays safe and secure all the time.
Dedicated Servers With CDN Service for Faster Loading Times
You also need great server bandwidth to support growing usage volume when running your online betting website. It would be best to take up dedicated server hosting plans backed by uptime guarantees.
Kzing utilizes CDN (Content Delivery Network) to provide stable performance and a smooth gaming experience regardless of your user's location.
User-Friendly Website Design

A great User Interface/User Experience design is essential in attracting new users and retaining existing players when creating your sports betting website.
Your website should look legit, secure, and trustworthy. However, most people don't realize that having a great UI/UX design will improve the retention rates of existing users.
This works because people enjoy a well-designed & responsive template that looks good on desktop, tablet, and mobile devices, as it helps to build trust and confidence in current and future players.
Important Marketing Features for Your Sports Betting Website
Promotion & Bonus System
Creating promotion events and reviewing their performance is essential to keep your site exciting and in trend.
Bonuses captivate many players and are crucial in building a successful sports betting business. Here are some ideas that you could implement:
Refer a friend promo
VIP Privileges
Gift redemption
Agent & Affiliate Marketing System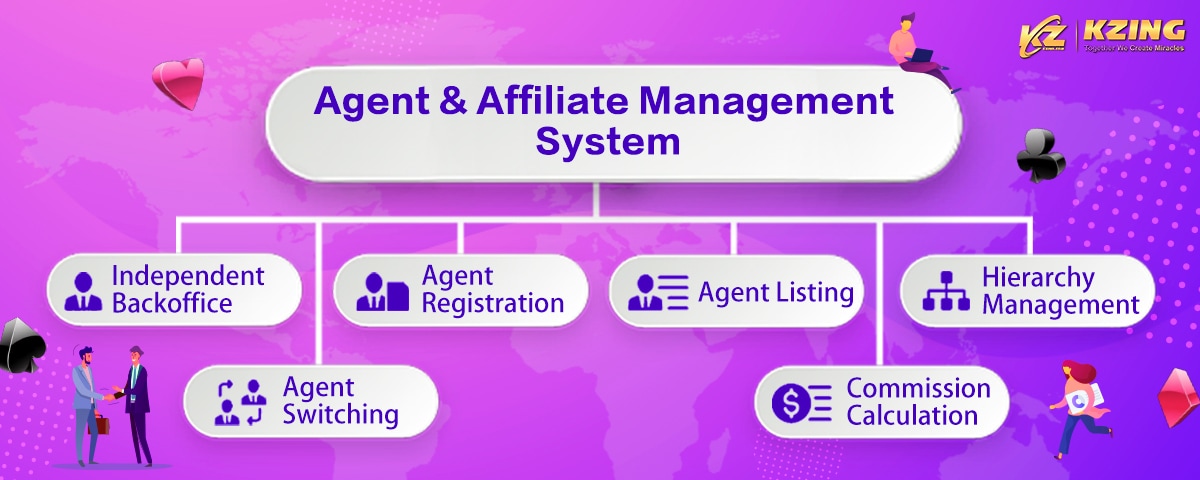 Agents and affiliates help build your platform. You need to build an agent system to handle your gambling site's affiliate and agent activity.
You should also create an affiliate marketing system to reward affiliates for their efforts and an independent back office for agents. Some things to include are:
Agent registration
Agent listing
Level management (tiered payout ratio & commission rates)
Commission calculation
Automatic settlement
Betting Tips & tutorials
It is a good practice to share betting tips, trends and rules with your customers so that professional and non-professional bettors will be interested in visiting your website.
There is also a possibility that this information might be helpful to those who have never bet on a sport before but are willing to do so. With helpful tips, they might feel more confident in trying their luck.
The more you tell them how to do it right so they can feel confident and secure when placing their wagers with you, the more likely they will become loyal users.
We Know How to Create a Successful Sports Betting Website
Still unsure of how to create your sports betting website? Kzing is here to help.

With over 1,000 clients worldwide, we are professionals in the iGaming industry. Our gambling software solution is white-labelled, ready-made, and loved by players.
With our help, you don't have to do any heavy lifting and can cut short your development time (losing the recalculated risks of running your start-up on your own).
In addition, you can delegate technical responsibilities to white-label service providers like us so you can focus on developing and promoting your brand.
Let's not waste any more time and put your dreams into action. Contact our business manager, and let's get you started on your sports betting website immediately.