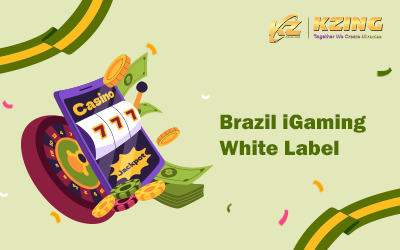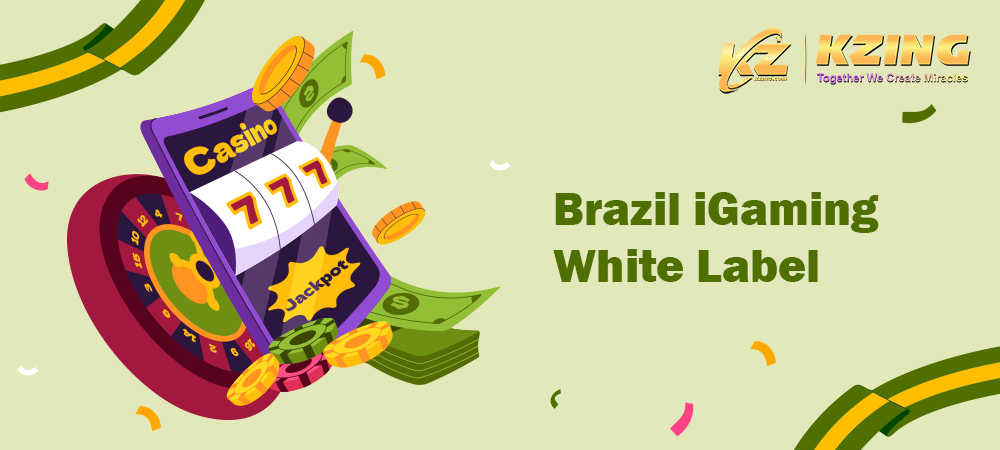 In recent years, the iGaming industry has experienced exponential growth worldwide, and Brazil is emerging as a promising market for operators seeking new avenues of expansion. As the iGaming sector gains traction in this dynamic South American nation, it becomes crucial for operators to make strategic decisions that will ensure their success. One such strategy is partnering with a white label platform provider, and in this article, we'll delve into the exciting world of iGaming in Brazil and explore the benefits of choosing a reliable partner like Kzing.
The iGaming Revolution in Brazil
With a population surpassing 200 million and a zeal for sports and entertainment, Brazil provides an enticing arena for iGaming operators.
Within this expansive demographic lies a golden opportunity for operators to tap into a vibrant player base, with high turnover volume.
The regulatory environment in Brazil has been evolving to accommodate iGaming activities, making it an opportune time for operators to enter the market. The Brazilian government has been taking steps towards legalizing and regulating various forms of online gambling, including sports betting and casino games. Most recently, with the Brazilian government's plan to regulate sports betting in the nation. As the regulatory framework becomes clearer, operators need to position themselves strategically to capitalize on this burgeoning market.
Operators can look to working with white label providers like Kzing to capture this exciting new market, banking on the expertise and experience in understanding of the Brazilian market to appeal to and attract players, to creating a platform that meets the needs and preferences of the population.
Capturing the Brazilian Audience
To capture the hearts and minds of Brazilian players, operators must comprehend their distinct preferences. With an unwavering passion for football and a penchant for immersive experiences, Brazilian gamers are drawn to platforms that cater to these inclinations.
Passion for Sports: Brazil's fervor for sports is undeniable, with football (soccer) being a cultural cornerstone. Operators can harness this immense passion by offering a wide spectrum of sports betting options, extending well beyond football. Notably popular online gambling games like virtual horse racing, basketball tournaments, and mixed martial arts bouts can captivate Brazilian bettors. Additionally, crafting tailored promotions around prominent sporting events such as the Brazilian Serie A, Copa Libertadores, and international tournaments provides a unique opportunity to engage the fervent sports enthusiasts in Brazil.
Engaging Content: The Brazilian gaming community thrives on captivating and immersive experiences. Introducing a lineup of popular online casino games like video slots, poker, and roulette, complemented by culturally relevant themes, graphics, and interactive elements, can forge a profound connection with the audience. The allure of live dealer games, where players engage with real-life croupiers through a digital interface, can further elevate engagement and cultivate player loyalty.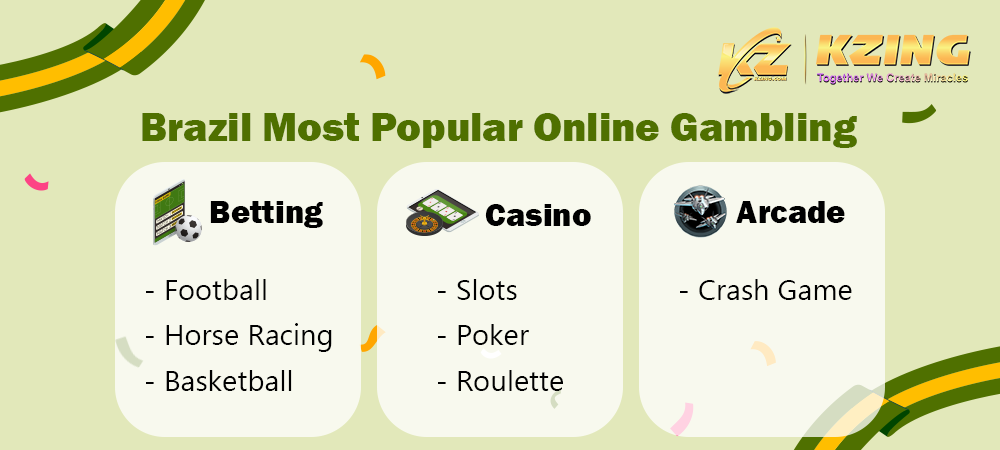 Kzing white label partners with gaming platforms to offer over 100+ games that are ready to plug and play into your platform.
Payment Options: Building player trust through secure and seamless transactions is paramount. Operators should endeavor to offer a versatile array of payment methods tailored to Brazilian preferences. Widely accepted methods like local bank transfers, e-wallets, and prepaid cards resonate well with Brazilian players, assuring convenience and reliability. Collaborating with a seasoned white label platform provider like Kzing can facilitate the seamless integration of these locally preferred payment options, fostering a sense of trust and satisfaction among players.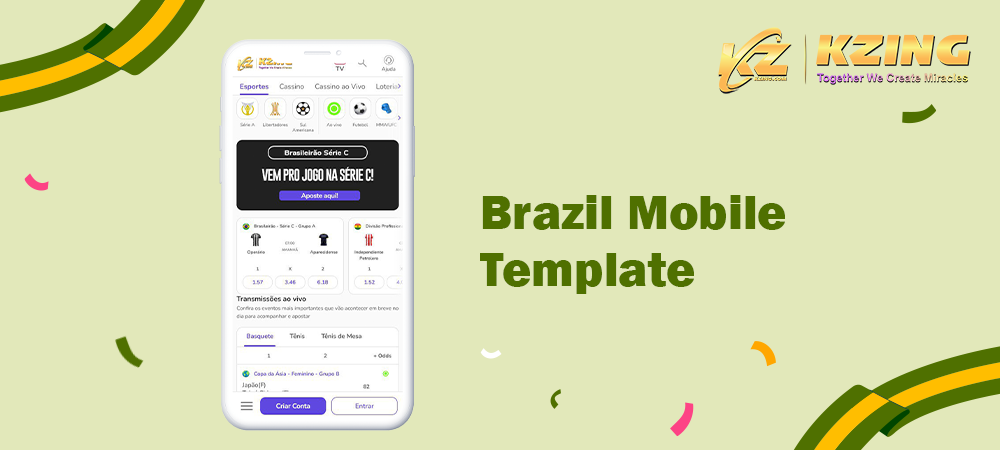 Mobile Compatibility: The proliferation of mobile internet usage in Brazil underscores the significance of optimizing gaming platforms for handheld devices. Beyond traditional online gambling, tapping into the popularity of mobile-friendly games like virtual scratch cards, instant win games, and progressive jackpot slots can enhance player engagement and extend the reach of the operator's offerings. Prioritizing mobile compatibility ensures a frictionless gaming experience across devices, a hallmark of successful iGaming ventures in Brazil's evolving landscape.
Brazilian gamers and bettors exhibit a distinct set of preferences and behaviors. Understanding these nuances is essential for operators aiming to make a meaningful impact in the market. With an experienced white label platform provider like Kzing, operators can save time and resources developing the site, and more time focusing on attracting players.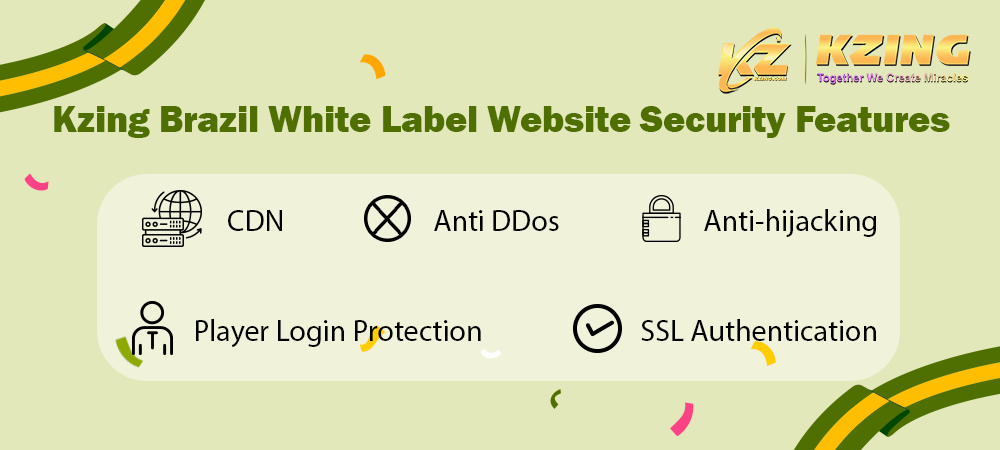 Take the right step into Brazil with Kzing White Label
Kzing leads the way in offering white label solutions that boost operators' success in the Brazilian iGaming scene. Its full range of features gives operators a competitive advantage, helping them excel in this fast-paced market.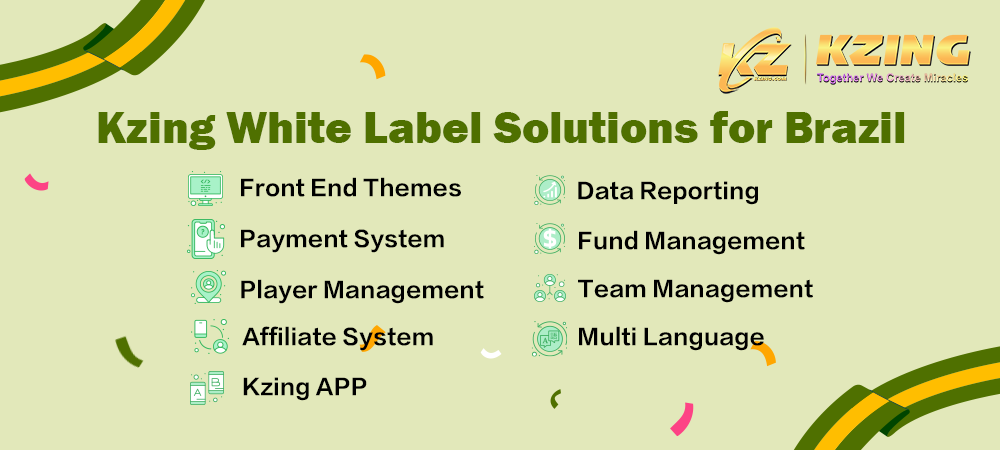 Localized Templates – Kzing's white label platform offers Brazil-specific templates that seamlessly integrate culturally relevant aesthetics, fostering a connection that resonates deeply with Brazilian players. This localization extends to game themes, graphics, and interactive elements, delivering an authentic and captivating experience.
Flexible Customization – Going beyond templates, Kzing empowers operators with flexible customization options that allow for tailoring the platform to align precisely with Brazilian preferences. This versatility ensures a seamless blend of familiarity and innovation, driving player engagement to new heights.
Payment Integration – Kzing simplifies the integration of locally preferred payment methods, assuring secure and hassle-free transactions for Brazilian players. From popular e-wallets to localized banking options, the platform enables operators to establish trust and convenience.
Robust Game Portfolio – Kzing's white label offering includes an extensive library of popular and engaging online casino games, enabling operators to curate a diverse and exciting gaming portfolio that appeals to Brazilian players' varied interests.
Mobile Optimization – Recognizing the prominence of mobile gaming in Brazil, Kzing ensures that its white label platform is fully optimized for mobile devices, delivering a seamless and immersive experience to players on the go.
Kzing Empowering White Label Solutions for Brazil's iGaming Triumph
The Brazilian iGaming market is a realm of endless possibilities, characterized by passionate players and evolving regulations. To thrive in this dynamic landscape, operators must align with player preferences, leverage a Brazil-localized template, and make strategic decisions, including partnering with a reputable white label provider. Kzing, with its industry expertise, tailored solutions, and commitment to empowering operators, emerges as a compelling choice for those seeking to conquer the Brazilian iGaming market. As the iGaming journey unfolds in Brazil, Kzing stands ready to be the guiding force that turns aspirations into achievements.