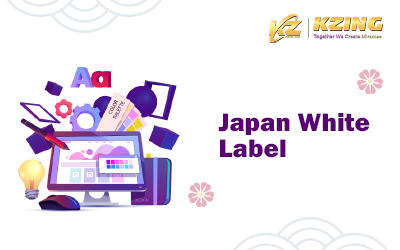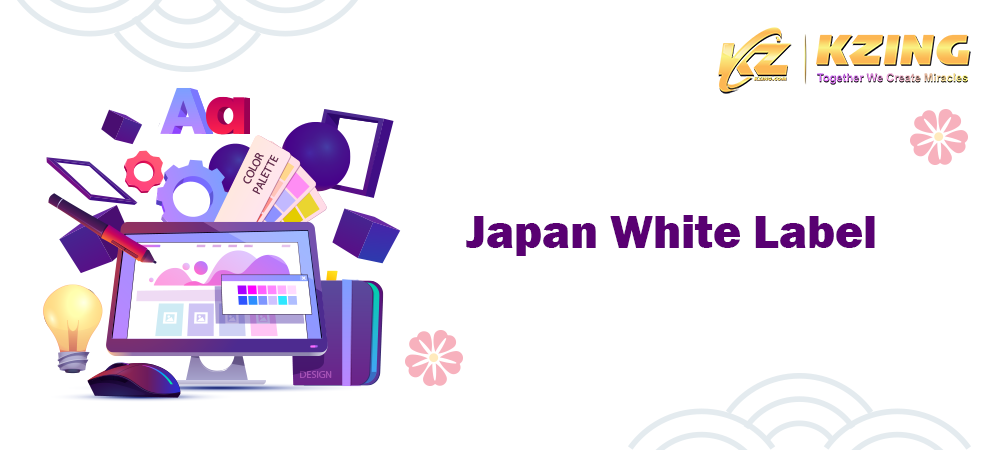 In the ever-evolving realm of iGaming, Japan stands out as a land of both untapped potential and unique challenges. As the country's regulatory landscape undergoes transformative shifts, the iGaming market in Japan holds promises of remarkable growth. Yet, for those looking to enter this dynamic industry, the path can seem complex and daunting. Enter "White Label Solutions," a strategic gateway that offers a streamlined approach for aspiring iGaming entrepreneurs seeking to establish a foothold in Japan's lucrative market.
The White Label Advantage
Developing a comprehensive iGaming online gambling platform from scratch can be challenging, demanding substantial resources and expertise. This is where white label solutions come into play, providing an efficient alternative. With established platform providers like Kzing, entrepreneurs gain access to a ready-to-launch, customizable platform, significantly reducing time-to-market. This approach empowers operators to focus on essential aspects such as branding, marketing, and player engagement and retention.
White label solution is a cost-effective strategy, sparing operators the burden of extensive development costs and complex technicalities. Rather than a lengthy and resource-intensive way, operators can partner with white label providers like Kzing who have worked with hundreds of operators and continuously gained experience in iGaming infrastructure. This collaboration accelerates market entry, allowing operators to swiftly establish a robust presence in Japan's burgeoning iGaming scene.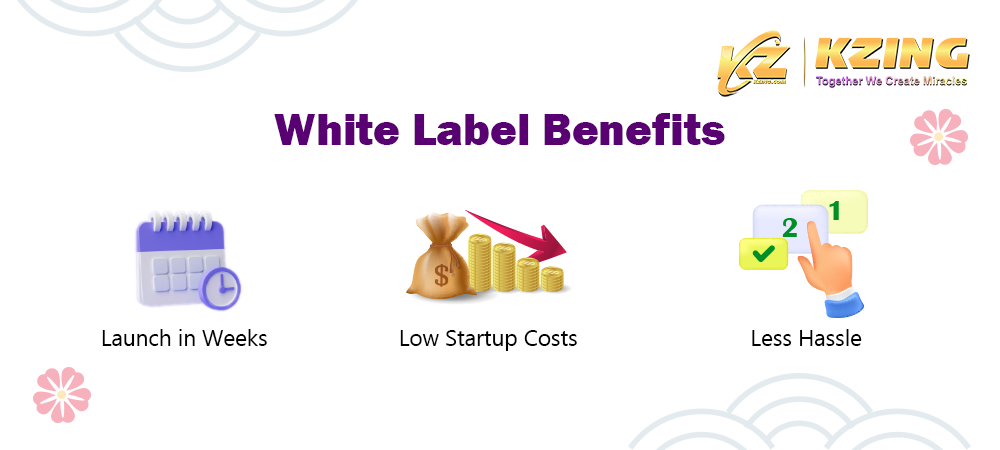 Embracing Cultural Sensitivity
Cultural resonance is a key element in any successful iGaming venture, and the Japanese market is no exception. Japanese players have a deep appreciation for their cultural heritage and values, which extend to their entertainment choices, including iGaming. White Label Solutions like those offered by Kzing recognize this, meticulously designing platforms to incorporate aesthetics, language, and design elements that mirror Japanese culture.
The result is an iGaming experience that feels authentic and familiar to Japanese players. From interface design to game themes, every element is thoughtfully tailored to create a comfortable and immersive atmosphere. This cultural sensitivity not only enhances player engagement but also underscores the commitment of gambling platform operators to providing an experience that resonates with the heart of Japanese gaming enthusiasts.
Ensuring Data Security and Privacy
Respecting the value that Japanese players attribute to their personal and financial information, Kzing's white label solutions incorporate robust security measures. With a commitment to data protection, Kzing equips its iGaming software with a sophisticated security system that safeguards player information from potential breaches. A comprehensive fund management system is seamlessly integrated, ensuring secure and transparent handling of transactions. This comprehensive approach not only mitigates risks but also grants Japanese players the peace of mind they seek, allowing them to engage confidently and enjoy themselves without compromising on data security.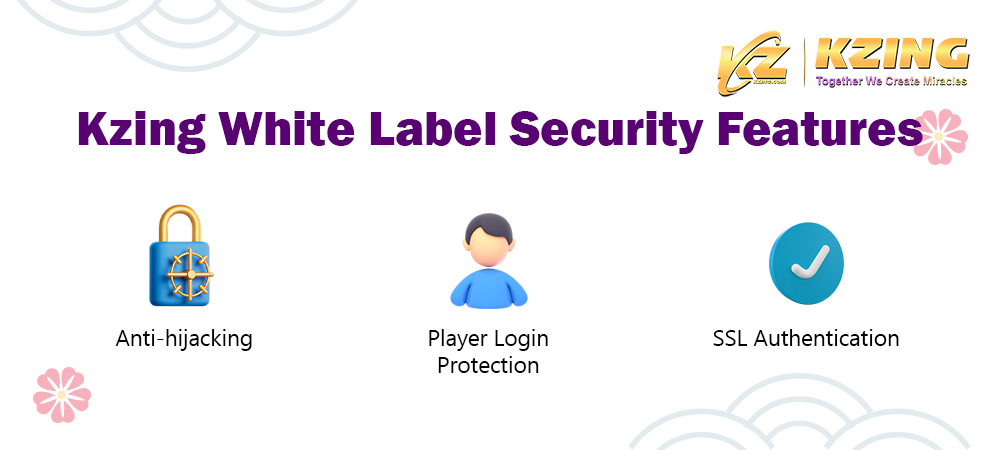 Elevating the Rule-Abiding Experience
Japanese players' reputation for their rule-abiding nature extends to their approach to gambling. Kzing recognizes this cultural trait and empowers operators with tools to ensure a seamless and compliant gaming environment. By providing a comprehensive framework that outlines the rules of games, terms and conditions of play, as well as every facet related to payments, reloads, and payouts, Kzing minimizes ambiguity and reduces the burden on customer service and support through site features like Frequently Asked Questions (FAQ). This meticulous approach allows Japanese players to engage with a sense of clarity, ensuring smooth operations and enhancing their overall experience.
Seamless Mobile Experience
Japan boasts a robust internet penetration rate, and mobile devices are integral to daily life. White label solutions providers like Kzing have embraced this reality, offering online gambling platforms optimized for mobile devices. This ensures that players can enjoy their preferred iGaming activities while on the move, enhancing accessibility and convenience in line with Japanese lifestyle preferences.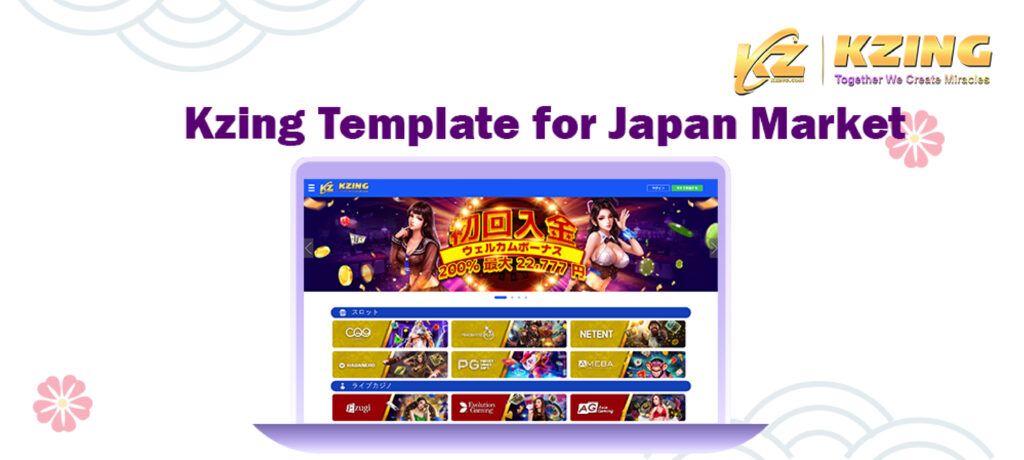 Working with a white label solution like Kzing can mean getting access to mobile-optimised sites designed for the Japan market with little hassle.
Mobile optimization extends beyond mere convenience—it's a reflection of operators' dedication to meeting players where they are. By providing a seamless mobile experience, operators tap into the modern Japanese way of life, where mobile devices are more than tools; they are extensions of personal expression and connectivity.
To fully appreciate the potential of Japan's iGaming industry, it's vital to understand its current situation. While traditional gambling remains regulated, recent legislative developments have signalled a gradual shift towards embracing the iGaming sector. This transition is notably reflected in the growing demand from Japanese players for diverse online gambling experiences, creating an opportune moment for iGaming entrepreneurs to tap into this market.
The Japan Integrated Resort Implementation Act, passed in 2018, paved the way for the establishment of integrated resorts that combine casinos, hotels, and entertainment venues. This landmark legislation is a significant departure from Japan's historically cautious approach to gambling. Additionally, discussions around online gambling legislation are gaining momentum, hinting at a broader acceptance of iGaming activities.
Choosing the Right Japan White Label Provider
Selecting the ideal white label provider for the Japanese market requires careful consideration. Key factors include the track record of the provider in ensuring smooth operations of its clients (operators), a deep understanding of Japanese player preferences, and efforts to localize, especially templates, that resonates with the target audience. A transparent and collaborative partnership with a platform provider like Kzing can provide the strategic edge needed to thrive in Japan's evolving iGaming landscape.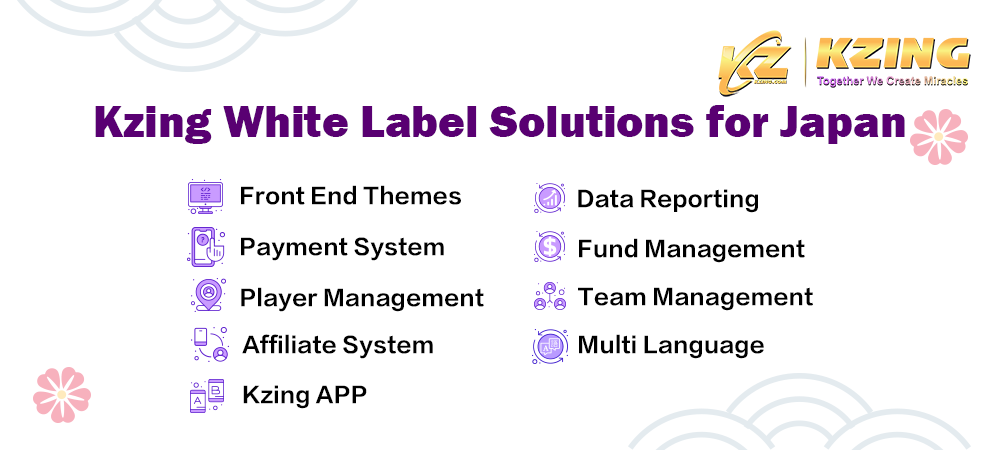 The allure of Japan's iGaming realm is undeniable, but seizing its potential requires strategic tools and partnerships. White label solutions, exemplified by offerings from Kzing, present a compelling path for entrepreneurs to establish a robust presence in Japan's burgeoning iGaming sector. By infusing cultural sensitivity and seamless user experiences, these solutions offer a powerful launchpad for a successful venture into Japan's iGaming domain.
For those ready to embark on this exhilarating journey, explore Kzing's white label packages tailored precisely for the Asian markets, including Japan.