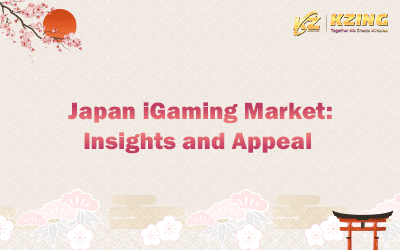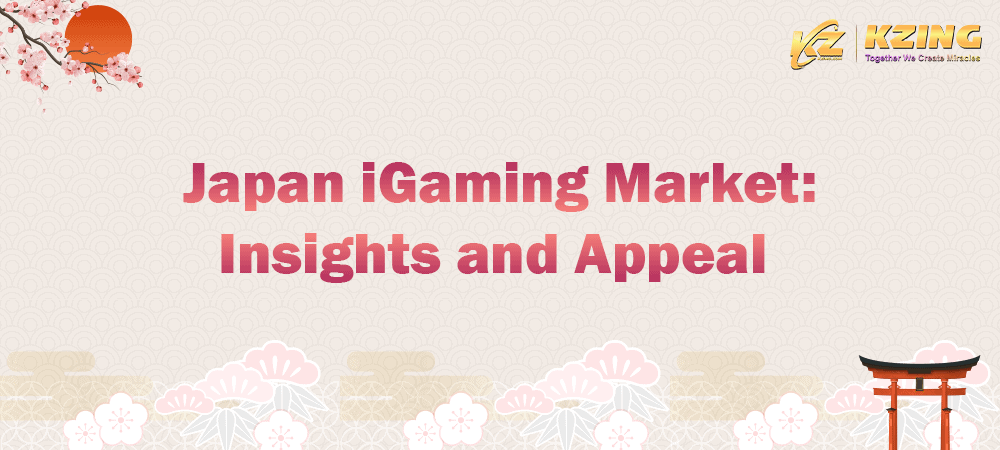 The gambling market in Japan is at an exciting crossroads, as the country balances regulations with the promise of incredible future opportunities. Japan has traditionally been cautious about gambling and has strict rules to maintain order in society. However, things are changing.
The Japanese government now sees the potential benefits, both economically and culturally, that the gambling industry can bring. With the legalization of integrated casino gambling resorts and upcoming online gambling legislation, Japan is on the brink of a transformative era. In this article, we delve into current state of the Japan online gambling market, examining the evolving regulations and the immense potential that lies ahead.
Shifting Japanese Gambling Market Landscape
With legislative changes and shifting attitudes towards gambling in Japan, the future potential of gambling market in the country is incredibly promising. The legalization of integrated resorts has paved the way for Japan's first casino set to open on the artificial island of Yumeshima, in Osaka Bay. Ongoing discussions surrounding gambling and online gambling legislation present a golden opportunity for operators looking to enter the Japanese market – whether physical casinos or online venues. The potential legalization of online gambling will unlock a massive player base eager for diverse online gambling experiences.
As the regulatory landscape continues to evolve, operators can tap into a market rich in culture, technology, and an inherent passion for online gambling. By strategically navigating the market dynamics, legal requirements, understanding local preferences, and offering compelling and tailored experiences, operators can position themselves to thrive in Japan's flourishing online gambling market, enjoying its tremendous opportunities.
Playing Beyond Borders
Despite the restrictions on the Japan online gambling market, many players in the country do engage in online gambling activities on websites operated by overseas operators. Japanese players are known to seek out offshore online gambling platforms that accept players from Japan. These overseas internet gambling sites provide access to a wide range of casino games, e sports, sports betting, poker, and other forms of internet gambling that are not currently available within the domestic market.
Players in Japan often turn to these international online gambling sites for their comprehensive gaming offerings, attractive bonuses, and the convenience of playing from the comfort of their own homes. The popularity of online gambling among Japanese players, even on overseas platforms, demonstrates the strong demand and interest for online gaming experiences in the country.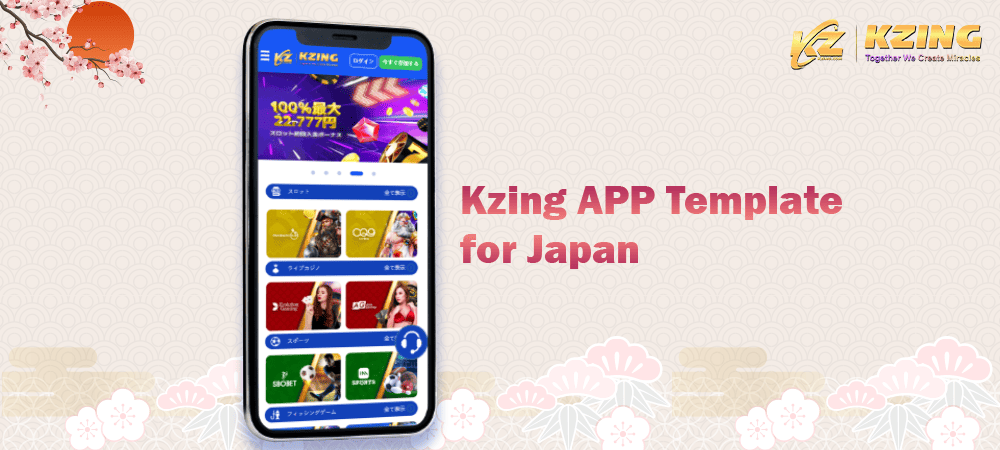 On-the-Go iGaming
The widespread adoption of high-speed internet infrastructure, coupled with a culture that values convenience and on-the-go accessibility, presents a prime opportunity for online gambling operators to provide seamless mobile experiences to Japanese players. By optimizing their platforms for mobile devices, operators can tap into the immense potential of the Japanese online gambling market, offering players the flexibility to enjoy their favorite casino games, place bets, and participate in iGaming activities from anywhere at any time. Whether through responsive websites or dedicated mobile applications, prioritizing a mobile-friendly approach is essential to cater to the tech-savvy Japanese audience and ensure a captivating and convenient online gambling experience.
To better reach Japanese players, operators should prioritise the mobile experience. Given the high mobile penetration in Japan, optimizing the online gambling experience for mobile devices is crucial. Offering a seamless and user-friendly mobile platform ensures accessibility and convenience for players.
Betting on Localisation
To effectively cater to Japanese players, iGaming operators must prioritize both localisation and offering popular games that resonate with their preferences. Localisation involves adapting the gaming experience to the Japanese market, incorporating language, design, and cultural elements that create a sense of familiarity and connection. Providing a fully localized website, customer support in Japanese, and incorporating Japanese themes or cultural references in the game offerings can significantly enhance the appeal to Japanese players.
Furthermore, offering a diverse selection of games that align with Japanese gaming preferences is crucial. This may include pachinko-inspired slots, traditional Japanese-themed games, or popular genres in the Japanese gaming industry.
Popular Online Casino Games Amongst Japanese Players Include:
Pachinko
Pachinko is a unique Japanese game that resembles a vertical pinball machine. Players purchase steel balls and aim to win more balls by launching them into a maze of pins. Although pachinko itself is not classified as gambling, players can exchange the balls they win for prizes, including cash or tokens that can be redeemed for cash at specialized establishments known as "pachinko parlours."
Sports Betting
Sports betting on authorized events such as horse racing, motorboat racing, and bicycle racing is legally permitted in Japan. There are dedicated online sports betting casino and authorized betting outlets where players can place their bets on these sports.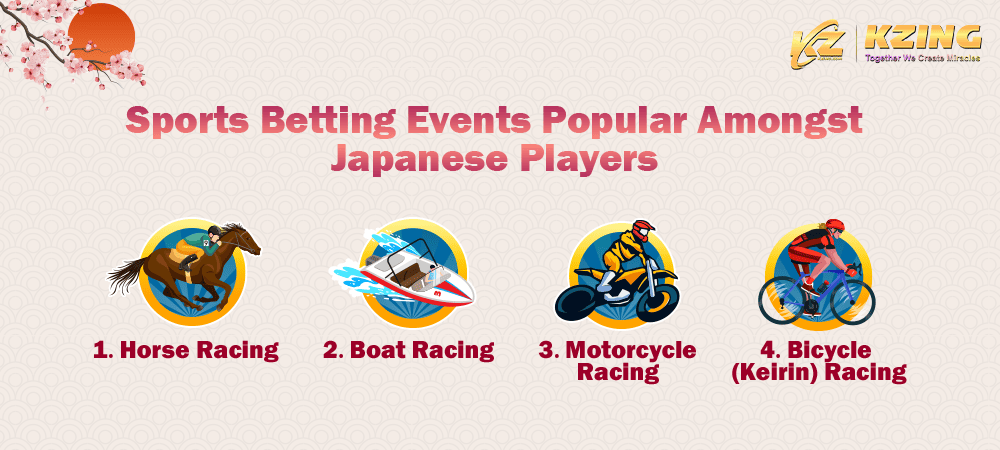 Lottery
Japan has various lottery systems in place, both online and offline. These lotteries offer the chance to win substantial cash prizes, with popular options including the Takarakuji Lottery and Scratch Cards.
It's important to note that online casinos and other traditional forms of online gambling, such as poker and live casino games, are not yet legalized in Japan. However, with ongoing discussions and potential legislative reforms in progress, the future may hold opportunities for further expansion and diversification of online gambling options within the country.
Japanese Players Insights by Kzing
Having helped over 1,000 operators in the Asian market, including Japan, Kzing has gained valuable insights into the preferences of Japanese players.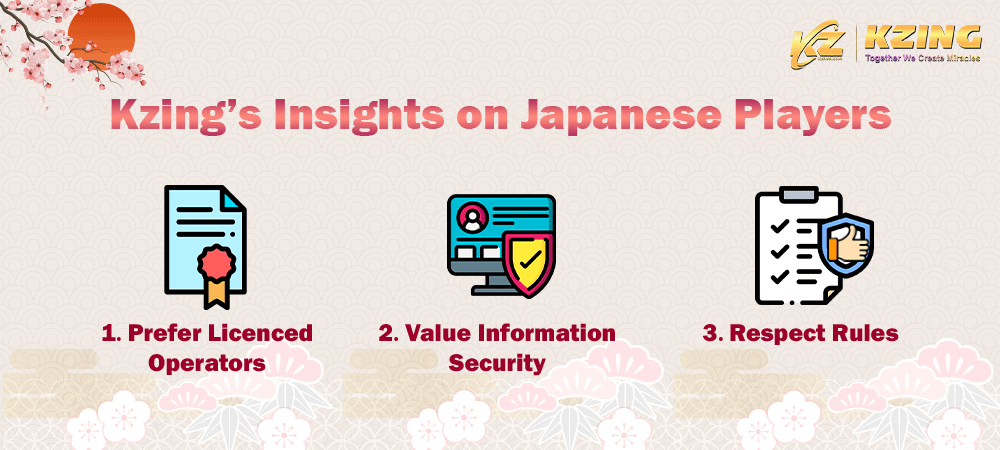 Japanese Players Prefer Licensed Operators
Prior to registering on any iGaming platform, Japanese players commonly consider whether a platform is licenced. This preference for licensed operators stems from a desire for trust, security, and player protection. A valid license from jurisdictions such as the Phillippines, United Kingdom, Malta, or Isle of Man, adds a layer of credibility and fosters trust among Japanese players. Highlighting the licensing information prominently on the platform, along with transparent information about regulatory compliance, can significantly enhance the appeal and trustworthiness of the iGaming operator to Japanese players.
Japanese Players Value Their Personal and Financial Information
To appeal to Japanese players, ensure that your iGaming software is equipped with a reliable security system to prevent hackers from stealing player information, and a fund management system to handle and record transactions securely in case of any disputes or issues that may arise. These features give Japanese players peace of mind to play on your site.
Japanese Players Play by the Rules
Known for their respectful and rule-abiding nature, even in gambling, Japanese players generally maintain composure and acceptance of wins and losses. For operators looking to target Japan online gambling market, laying out the rules of the games, terms and conditions of play, and all other aspects such as electronic payments, reloads, payouts, and so on will help ensure smooth operations and less load on customer service and support.
With help from Kzing's insights on the Japanese market and white label online gambling solutions catered to the Japanese market, starting your own online casino business or expanding your reach to Japan is more cost-effective and quicker than ever.
From front-end templates for desktop, H5, and even APP customised for the Japanese market, to platform features like payment gateway integration and exceptional security, Kzing's suite of software solutions and more offer iGaming from software and beyond.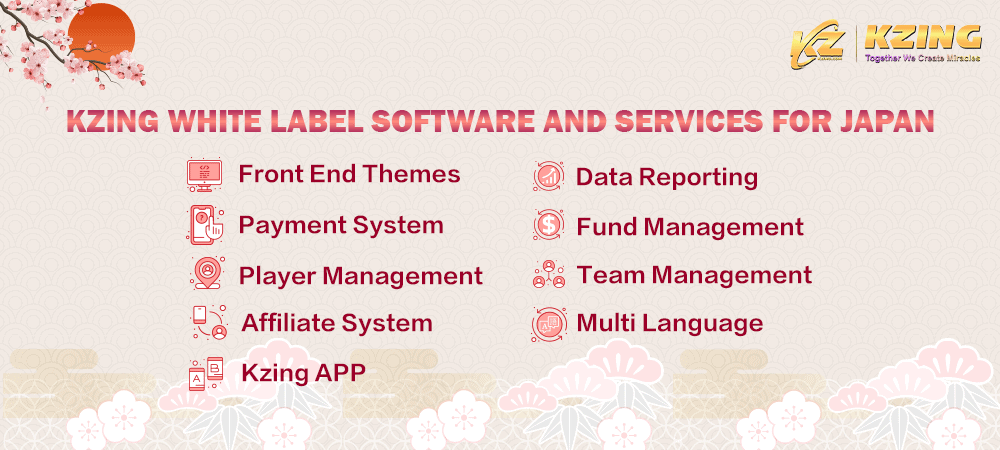 KZING'S WHITE LABEL IGAMING SOFTWARE
Payment system

Affiliate system

Intelligent risk control

Rewards/Events system

Promotion/Rebate system

Multi-language support

Data reporting system
Additional Online Gambling Services Offered by Kzing to Assist Operators
Assistance in setting up overseas operations points

Back office training
Embarking on your own online gambling platform doesn't have to be overwhelming or resource-intensive. By teaming up with a reputable white label online gaming platform provider like Kzing, you can enter the industry quickly and effortlessly. Kzing offers tailored white label packages designed for the unique markets of Asia, ensuring exceptional online gambling products and services. Visit our website for details or contact our team for a free professional consultation to begin your iGaming journey with confidence.