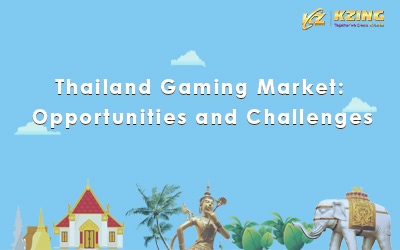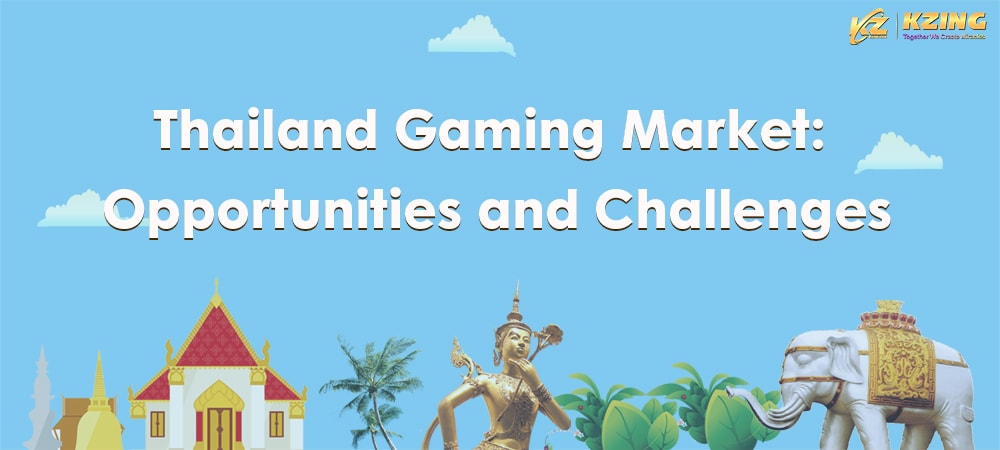 With the development of technology, the global online gambling market is booming, and Thailand, as a fast-growing economy in Southeast Asia, is also experiencing a boom in the online gaming industry. With a population of 70 million and increasing internet penetration, Thailand's rising smartphone and internet usage presents a significant market potential for major players operating in the global online gambling market. The Thai government is gradually moving towards regulated online gambling, with a new gambling act in the pipeline. This presents new development opportunities to the gambling industry. However, the unique language and cultural background of the Thai market also brings certain challenges to online gambling operators entering the market at the same time.
Current Situation of Thai Online Gambling Industry
As an important member of the Southeast Asian gambling market, Thailand's gaming industry has a direct impact on regional gaming patterns and trends. However, unlike some neighboring countries where the gambling industry is more open, Thailand's gambling industry is still in a period of regulatory transition, with a limited number of officially legalized gaming categories and the government cracking down on illegal gaming activities.
This makes Thailand's gambling market relatively complex, with regulatory risks, but also with great potential for development. Understanding the current development of Thailand's gaming industry and the regulatory environment is essential for gaming operators entering the market.
Specifically, the following are some of the notable features of the current Thai online gambling industry.
Major Legal Betting
Currently, the major legal betting in Thailand includes government welfare and sports betting lotteries (such as double-color lottery), as well as some authorized betting outlets for horse racing. Online betting and electronic gaming machines remain a gray area.
Illegal Operations
Demand-driven offline and online illegal gaming activities remain active, ranging from slot machines to lotteries to sports betting. Regulators are taking strong action against this.
Large Online Gambling Market Size
A survey indicates that over 5 million Internet users in Thailand participate in online betting, showcasing a significant online gambling market size. With the upcoming World Cup, the sports betting sector specifically is expected to contribute further to the growth of the Thai online gambling market size.
Mobile Gambling Dominates
Thailand's users mainly participate in betting via mobile phones, and mobile payment is also common, with 88% of payment transactions done via mobile phones.
Strict Advertising and Promotion
Public promotion of online gambling on the internet and television are restricted, which makes it more difficult to market the products.
Overall, Thailand's gambling market is undergoing a period of change in the regulatory environment, with a high level of activity and demand, but the types of legalized gaming are still relatively limited, and there is a certain degree of regulatory risk. For foreign online gaming operators, seizing the first opportunity in this period of change while avoiding risks is a test of their ability to understand the online gambling market and control risks. This requires professional and continuous research and market insights on the Thai online gambling market, and to measure the regulatory red line and development potential.
In this process, it is undoubtedly wise to choose an experienced Thailand online gambling solutions provider which can provide high-quality market monitoring and analysis services, as well as reliable risk management solutions. This will help operators to better grasp the opportunities, avoid the risks, and drive market growth in this innovative online gambling market.
Thailand Gambling Market Trends
Thailand is one of the fastest growing economies in Southeast Asia, with GDP growing at a rate of 4-5% over the past decade. As the economy booms, the expansion of Thailand's middle class and the increase in disposable incomes emerge as significant growth factors, indicating vast potential for market growth in the gambling industry.
A research report by the Thailand Gambling Research and Social Business Development Center found that nearly 57 percent of Thai adults will be involved in gambling activities in 2020. For these gamblers, the second most popular betting activity, aside from state-run lotteries, is online sports betting. Thai players can "bypass" local gambling laws by accessing gambling sites, as most of the online casinos visited by locals operate overseas and are not regulated by Thai law.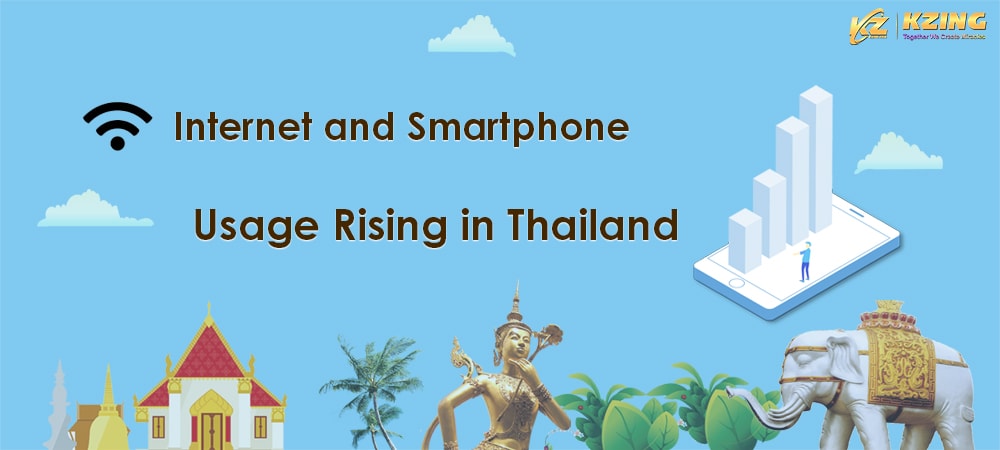 At the same time, Thailand's Internet and smartphone usage rates are increasing. With a population of 70 million, Thailand has an Internet penetration rate of over 57% and a smartphone penetration rate of over 80%. This provides a huge mobile gaming market size for operators.
With the opening up of Thailand's gambling market, more and more international operators want to enter the Thai online gambling market to get a share of the market. However, it is difficult to operate directly in the Thai market. The introduction of the Thailand white label can help operators lower the barriers to entry and better serve the Thai market.
Demand and Background of Introducing a Thailand-based Network
Language and Cultural Barriers
Thai is the only official language in Thailand and most Thais are not proficient in English. Thailand has a unique cultural tradition, and international gaming operators need to have a deep understanding of the local culture and preferences in order to attract players. There are language and cultural barriers to targeting the Thai market directly.
Limited Technological Capabilities
Most global online gambling operators do not have their own technology development capabilities in Thailand. They need to introduce local payment interfaces and integrate with major banks in Thailand, which is a highly technical requirement.
Therefore, the introduction of a Thailand-based online gambling white label provider is the best way for global online gambling operators to enter the market. The provider can offer a Thai language website, Thai bank payment interface, and a platform that meets the local regulatory requirements.
Amid the competitive landscape of the Thai market, the professional services of the white label provider assist global online gambling operators in simplifing their market expansion efforts, and lowerering the threshold of entering the Thai market.
Functions Customized by the Platform to Enter the Thai Market
In order to help global online gambling operators enter the Thai online gambling market smoothly, Kzing Thailand offers customized package services.
The main features of Kzing Thailand include:
Localized Front-end Templates and User Interfaces
Thai templates and interface design adapted to the behavior of Thai online players, while supporting Thai language brings a localized user experience.
Multi-language Support
Support Thai, English and other language versions of the site and user interface to cater to different users.
Localized Offers and Activities
Design unique localized offers and activities according to Thai users' preferences, such as traditional Thai festivals and activities.
Integration with Thailand's leading e-payments
Integrate Thai baht payments with Thailand's leading e-wallets, such as TrueMoney, AirPay, etc., to provide localized online payment solutions.
Flexible back-office system
Provide two modes of back-office system, simplified and pro versions, which users can conveniently switch between.
Localized Agent and Promotion System
Design localized agent and promotion system according to the characteristics of the Thailand online gambling market.
Support Social Media Login
Support Facebook, Line and other social logins to improve user retention.
Adaptive Web Design
Desktop and mobile adaptive web design, which is convenient for users to access through different devices.
By providing the above customized features, Kzing can help global online gambling operators to build truly localized online gambling websites to better serve and capture the Thai online gambling market.
Design Templates for Thailand's Online Casinos Websites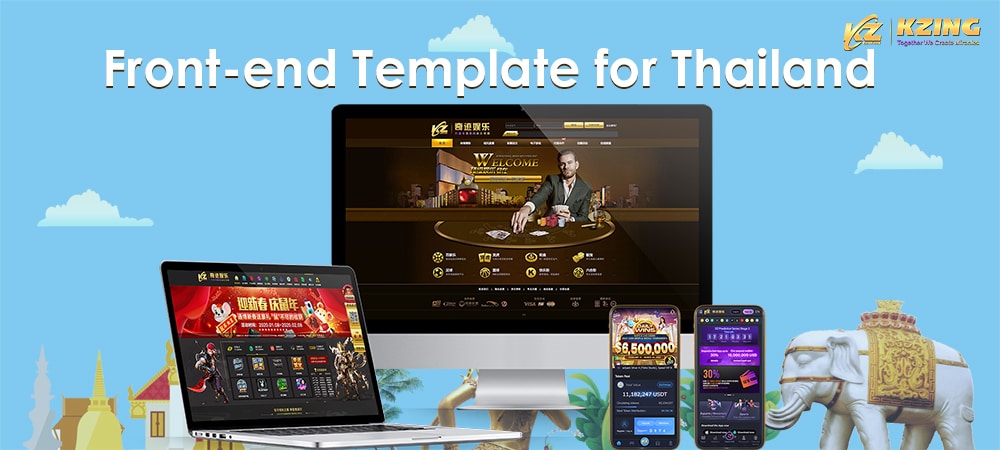 As a culturally rich Asian country, Thailand has unique aesthetic traditions and behaviors. This has a direct impact on the visual experience and aesthetic expectations of Thai users on gambling sites. Compared with the international mainstream website design style, Thai users prefer designs with strong local characteristics. If the visual style of a gaming website is too common, it is difficult to attract Thai users' eyes and stand out from the competition.
In order to bring Thai users an immersive experience and a sense of intimacy, the visual design of Thai gambling sites in terms of colors, images, layout, fonts and other aspects must be customized and optimized for localization. For example, Thai traditional festive colors are used in the color scheme, and Thai elements are incorporated in the layout. This requires designers to have a deep understanding of Thai culture and aesthetics in order to convey a truly authentic Thai style.
Specifically, Thai online casino design needs to focus on aspects such as: color matching, image selection, layout and font design. Choosing online casino developers with rich experience in local Thai design will help you create a website template that is more aesthetically pleasing to Thai users, thus better capturing their hearts and minds.
Popular Casino Games in the Thai Online Gambling Market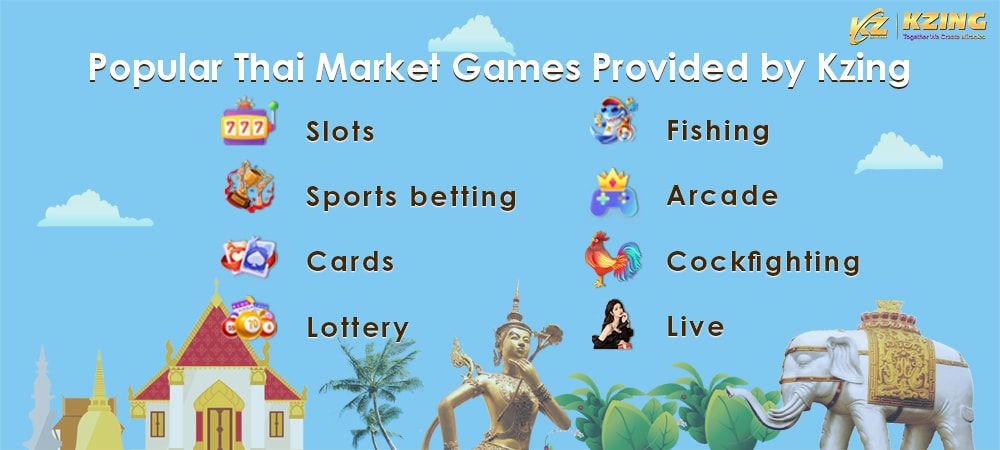 Local Thai players have their own specific preferences for casino games. Understanding the preferences of Thai players and providing popular games that are suitable for the local market is the key to success for online gambling operators.
As a unique Asian cultural market, Thailand has its own characteristics of local players' needs, and they also show unique preferences for gaming games. Compared with international mainstream online games, local players prefer casino games that incorporate Thai cultural characteristics. This has a direct impact on the product design of operators in Thailand.
Understanding the gaming interests and cultural background of Thai players and adjusting the product mix accordingly is the key for gaming operators to successfully enter the Thai gambling industry, which is different from the mainstream market. Otherwise, a direct copy of an international market site will not attract Thai players and will not be able to compete with local competitors.
Specifically, Thai players generally favor the following categories of games:
Slot Machines
Slot machine games are popular in Thailand, such as PG, FC, PP, MG, PT, JDB, Joker, Jili, PNG and other well-known slot machine brands are very popular among Thai players. In particular, slots with Thai characteristics, such as those themed on Thai legends and culture, have a strong local appeal.
Sports Betting
Thai players are passionate about betting on a variety of sports betting, such as Muay Thai and football, which are among the most popular in Thailand. Offering a wide range of sports betting games is essential.
Mahjong and Chess
Combining strategy and entertainment, they are popular choices among Thai players, and board games from brands such as Kingmaker and 365 Card Game are highly popular. It is important to configure the games according to different players' preferences.
Lottery
Lottery games are easy to play, simple and intuitive, with TCG's lottery games also being popular among Thai people. Offering a wide selection of lottery games will increase the attractiveness of the platform.
Fishing
Fishing games from brands such as KS Gaming, JDB, ICG, etc. are also popular among Thai players.
Arcade Gaming
Arcade gaming platforms such as Spribe are also entering the Thai online gambling market.
Cockfighting
Cockfighting game brands such as S128, WGB, and RCB888 have been well received by the Thai player base.
TV Games
TV games such as SA Live, Sexy Live, Allbet, DG Live, Evo Live and others are popular for their interactive experience.
Thai players have a strong and varied demand for a wide range of games, so it is important to offer a wide selection of games. By choosing a reliable solutions partner, you can benefit from professional guidance in this area.
How to choose the right Thai White Label company?

Understand the Online Gambling Products and Services
Communicate with the person in charge about the specific Thai site content you want and the approximate costs. Visit the demo site for the Thailand market to see exactly how it works and how effective it is. If the online gambling solution provider has a successful case, you can visit the website of the gaming platform with which the provider cooperates, so that you can experience whether it is what you want.
For instance, the World Cup season will generally see traffic surge. A good online gambling system must be able to support a large number of people online at the same time. When the traffic surge cannot be accommodated, it can easily lead to server access lag, connection failure, or even collapse and other problems, affecting the users' gaming experience, and is not conducive to the retention of users. Therefore, to consistently maintain optimal performance for interactive gambling applications, Kzing's server configuration, performance, and network bandwidth are held to strict standards. The servers used are equipped with high-performance storage, aiming to provide users with high-quality, efficient, scalable cloud computing services. The scalable capacity ensures smooth usage of customers' business during peak periods.
Operation and Maintenance & After-sales Service
Many white label providers may offer low setup fees and maintenance fees, but the after-sales service is not ideal! Kzing strives to ensure perfection in this regard, we offer a professional customer service team 24 hours a day, 7 days a week, for you to maintain high retention rate on your site, and multi-location office security and stability, for you to improve the quality of service. Each customer service operation and maintenance are trained, with a full range of industry expertise to solve problems professionally and actively. In handling issues such as bugs, the 24/7 service and maintenance team will respond quickly, silently dealing with problems behind the scenes to ensure your players never experience a hitch.
Testing and Operation Background
At this stage, the tech team will provide an update on the progress of server setup and development, and operators can make adjustments to cater to the Thai online gambling market. After testing and adjusting the problems, we will hand over the product to the operator and move on to the next stage. Online gambling operators can then test the backend system of the demo site to see how easy it is to operate and what backend functions are available, such as indispensable features like reporting system, fund management system, player management system, agent management system and promotions system are all indispensable.
The Kzing backend system is easy to operate, such as enabling and disabling games, restarting and upgrading cloud servers, all while also providing real-time monitoring and data reports, so that you can have an overview of your operation at any time.
In addition, network security is also important for online gambling websites. It is common for security situations such as server intrusion, database hacking, data alteration, CC and DDOS attacks, error accessing site, and even malicious intent from your competition. A qualified solutions provider can take on these problems.
Online Gambling Website Template Design
Choose your favorite Thailand site template, and relay to the design team the style you'd like clearly. A beautifully designed and ornate online gambling interface will attract players. If you can't decide, you can refer to other online casino platforms used by key market players in the online casino industry. However, this should only be for reference and not to be copied in its entirety, and you can also ask the design team for advice. With Kzing, an experienced online gambling platform provider, you can deploy a new online gaming site very quickly. Kzing provides WEB version, H5 version, and APP versions of the online gambling site.
Quotation
It is not a bad idea to agree on the exact costs and go through the contents carefully when signing the relevant cooperation agreement. While there is the saying you get what you pay for, it is all worth it as long as you are satisfied with the final product and it generates earnings, everything is worth it.
Tap Into the Global Online Gambling Market with Kzing – Your Key to Thai iGaming Success
Choosing a strong online gambling white label solution provider-Kzing- can help operators capitalize on the global online gambling market growth, securing a first-mover advantage in this booming emerging market and reach their long-term goals. This will be a wise choice to enter the Thai online gambling market.
With the gradual regulation of the online gambling industry and continuous user demand, Thailand is in a golden period of market growth. Although there are still some regulatory risks, a prudent and steadily developing gaming operator can seize the opportunity to benefit in this emerging global online gambling market.
The key is to choose an experienced and reliable white label provider in Thailand and get professional market trends analysis report, operation support and risk prevention. Kzing, with years of accumulated localization experience and service capability, can help online gambling operators smoothly develop the Thai market and achieve profitability.
Cooperating with a highly trusted and strong online gambling white label provider will be the right move for operators to enter Thailand. It is believed that with the further reform and easing of regulations, Thailand's online gambling industry will have a bright future, and a reasonable and prudent planning will surely bring considerable business benefits.