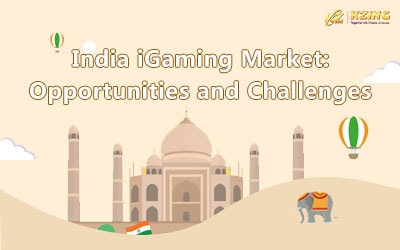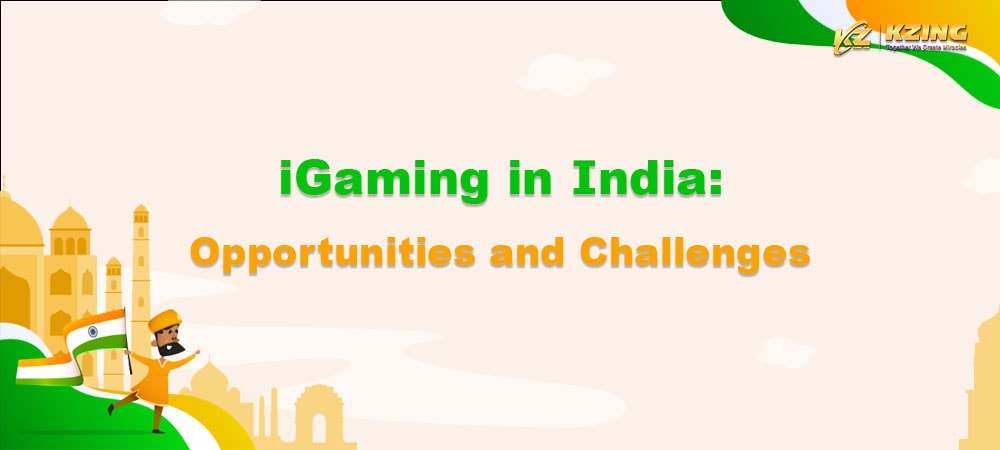 India's iGaming market is still in its early stages, and operators are exploring the opportunities it presents while navigating challenges such as regulatory uncertainty and unique player preferences. As of 2022, online gambling is officially legal in only a few Indian states, including Goa, Daman, and Sikkim. Sikkim also allows online lottery games that accept bets from players throughout India. Although other states are expected to follow suit and open up the online gambling market throughout India, progress has been slow.
The Indian market is a complex one which requires careful navigation. Potential operators which are mostly based in the US and Dubai (where 30% of the workforce is Indian), are eyeing India as an attractive market, although the lack of clear regulation can be a challenge. However, as India appears to follow in the footsteps of Brazil, which is starting to regulate its iGaming market, regulation may be a small hurdle to overcome in penetrating one of the largest markets in Asia and the world.
Key to Setting Up in India
Operators typically set up offices in Bangalore and Hyderabad (India's IT cities with high levels of education) when establishing themselves in the Indian market. India offers a cost-effective option for employee costs, with an average of INR 20,000 – 25,000 (US$ 243 – US$304) per person. However, only operators with adequate financial resources may be able to utilize this method for setting up their operations.
Other alternatives include white label providers and other turn-key solutions which can offer leaner setup costs, leveraging on their technology and network of solutions to assist in overseas operations setup and online support.
Experienced iGaming White Label providers like Kzing offer tailored, all-inclusive software solutions designed for the Indian market, as well as additional services like setting up overseas operations that can get your foot into the Indian market with less hassle.
Platform Development for the Indian Market
India has experienced significant growth in internet penetration and mobile phone usage, with an internet penetration rate of 54.6% as of January 2021 and more than 820 million smartphone users, representing over 60% of the population. The growth has been driven by the availability of affordable smartphones, reduction in data plan costs, and expansion of 4G networks.
Given the significant growth in mobile phone usage and internet penetration in India, it is important for iGaming operators to focus on developing their website in H5, and a mobile app, on top of the desktop site. This is because the majority of users in India access the internet through their mobile devices, making mobile optimization crucial for success.
Developing a website in H5, which is optimized for mobile devices, ensures that users have a seamless experience when accessing the site on their mobile devices. Additionally, developing a mobile app can help operators reach a wider audience and provide a more personalized experience to users, ultimately driving success in the Indian market.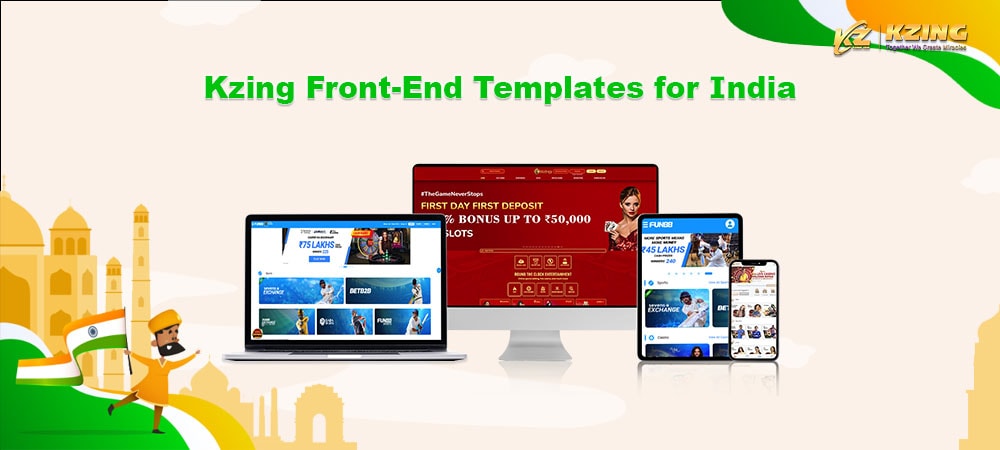 English is one of the official languages of India, and it is widely used in government, education, business, and media, which makes it a common language for iGaming platforms in India to reach a high number of users. Kzing offers a selection of stunning front-end templates in English, designed with great user experience in mind.
The availability of cash payment methods is crucial for the success of various industries in India, including online gambling. Many Indian players prefer using cash to fund their gaming activities due to various reasons such as convenience or not having access to credit cards. Therefore, online casinos operating in India must offer reliable cash payment methods to facilitate transactions between players and casinos. This includes providing secure and easy-to-use payment gateways that can process cash transactions quickly and securely. A robust payment gateway is essential for ensuring a seamless cash payment experience for players.
As a result, online casinos operating in India must offer reliable payment gateways that support cash payment methods to facilitate transactions between players and the casinos. Payment gateways are online platforms that process electronic transactions, including cash deposits and withdrawals. A robust payment gateway is essential for ensuring that players can make cash transactions quickly, easily, and securely.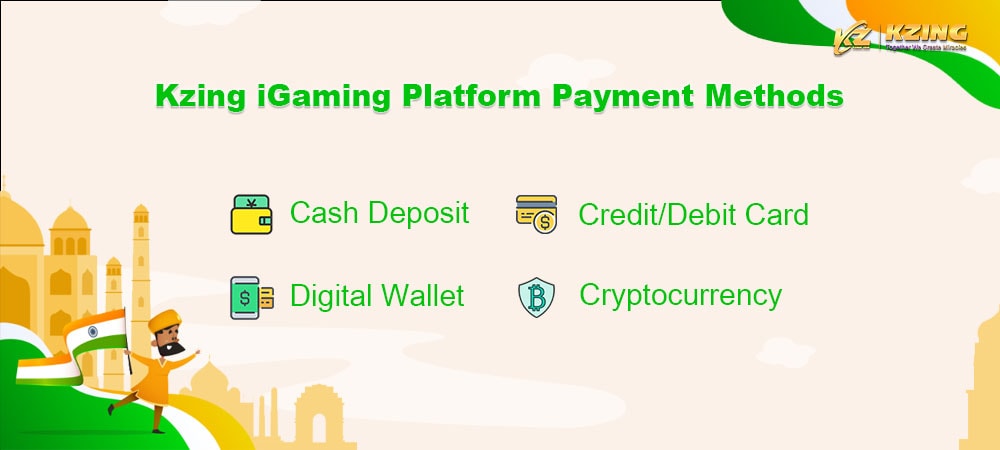 Online gambling platforms that support a wide range of payment methods, including cash payment options such as mobile wallets, will have an advantage in appealing to Indian players. This is why the Kzing software offers the integration of some of India's most widely used cash payment providers and methods. By supporting cash payment methods, online casinos can attract more Indian players and provide a seamless cash payment experience.
Affiliate marketing: According to a report by EGR Intel, affiliate marketing accounted for over 30% of all customer acquisitions in the Indian online gambling market in 2020. Operators looking to succeed in the Indian market should be sure to include affiliate marketing functionalities on their platforms and plan their marketing strategy to include this highly effective method.
SEO: The most popular keywords related to online gambling in India include "online betting," "satta," "matka," and "online casino" (report by SEMrush)
In line with this, operators should optimize their websites and content for these keywords to increase their visibility on search engines like Google and attract more organic traffic to their platforms. White label software, like that of Kzing's, also includes tools like Data Reporting System, which can gather user behavior and more to inform their SEO campaigns.
Tele-sales: A GlobalData report found that telesales accounted for around 15% of customer acquisitions in the Indian online gambling market in 2020.
With internet penetration in India coming in at just 43% (Slotegrator 2020 report), this strategy is effective in reaching the untapped market of customers who may not be active online.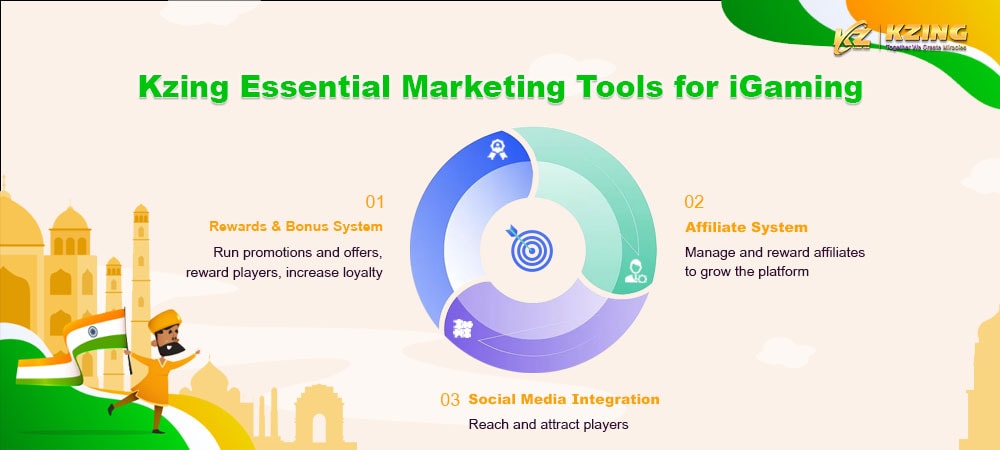 While Indian players may be cautious spenders, they are also highly engaged and loyal once they find a game or platform they enjoy. Effective retention strategies, such as personalized offers and loyalty programs, are therefore essential for operators looking to succeed in the Indian iGaming market.
Player Demographics: Understanding Indian Players
Indian players are highly diverse, with unique characteristics and preferences. Understanding these preferences is crucial for operators who wish to succeed in the Indian market. In general, Indian players tend to be cautious spenders, with a strong preference for low-risk, high-reward games. They are also highly value-conscious and price-sensitive, seeking out bonuses and discounts wherever possible.
However, spending patterns can vary widely depending on the player's location, income level, and gaming preferences. Southern Indian players, for example, tend to be more willing to spend on high-stakes games. In contrast, players located outside of larger cities may have more limited budgets and prefer low-stakes games. Overall, high-roller players start with an average of INR 40,000 (US$ 485).
Using the same system, Kzing's customer support has also identified a key insight into the needs of Indian players – the most common questions raised are about the registration process, from signing up to depositing. This finding underscores the importance of effective customer support in understanding and catering to the needs of Indian players.
Information gathered from iGaming operators also indicates that iOS users bet more and both iOS and Android users tend to seek bonuses. Indian players are also found to prefer simpler games, with the most popular currently being Andar Bahar. Other popular games include Live Casino, and Roulette. The data also concludes the most popular game providers in India are Sexy and Evo (with over 80+ games which can easily be integrated into your iGaming site built within the Kzing network).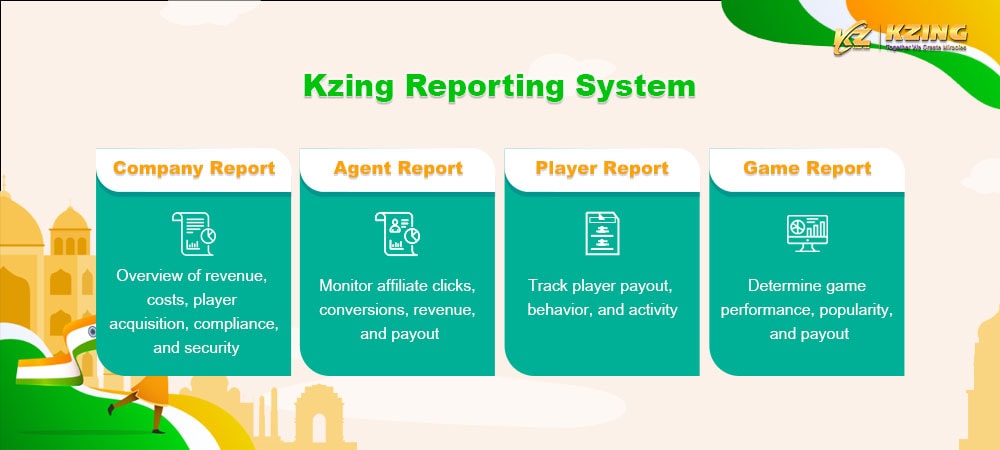 Keeping track of user behavior and preferences (like with Kzing's reporting system) is useful for operators looking to cater to the Indian market, where game trends are ever-changing.
With cricket being the most popular sport in India, it is no surprise that the Indian Premier League is the biggest draw when it comes to sports-betting. Operators looking to bank on Indian players' love of the game should be sure to offer attractive odds and a stable sports-betting app that players can access on-the-go. Keep in mind to reinforce customer and tech support during the IPL season, which typically takes place between March to May. With Kzing's 24/7 customer and tech support, our clients enjoy utmost peace of mind when it comes to handling high volumes during peak times.
Conclusion: Tapping into India's iGaming Market
The iGaming market in India presents a promising opportunity for operators looking to tap into one of the largest markets in Southeast Asia and the world. Despite the regulatory uncertainty and unique player preferences, operators can leverage the growth in internet penetration and mobile phone usage in India to develop tailored software solutions, website optimization, and marketing strategies. Operators who focus on developing mobile-optimized platforms, offering a variety of payment methods, and incorporating affiliate marketing, SEO, and telesales functionalities are more likely to succeed in the Indian market.
While navigating the complex Indian market, turn-key solutions and white label providers like Kzing can offer valuable assistance with setup and overseas operations, as well as provide reliable payment gateways for player transactions. With its early stages, the iGaming market in India is expected to expand further, and operators who can navigate the challenges and capitalize on the opportunities will be well-positioned for long-term success.