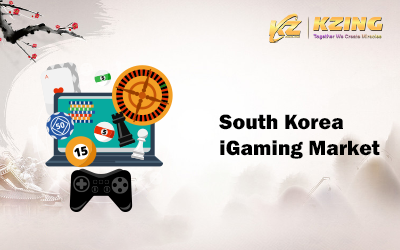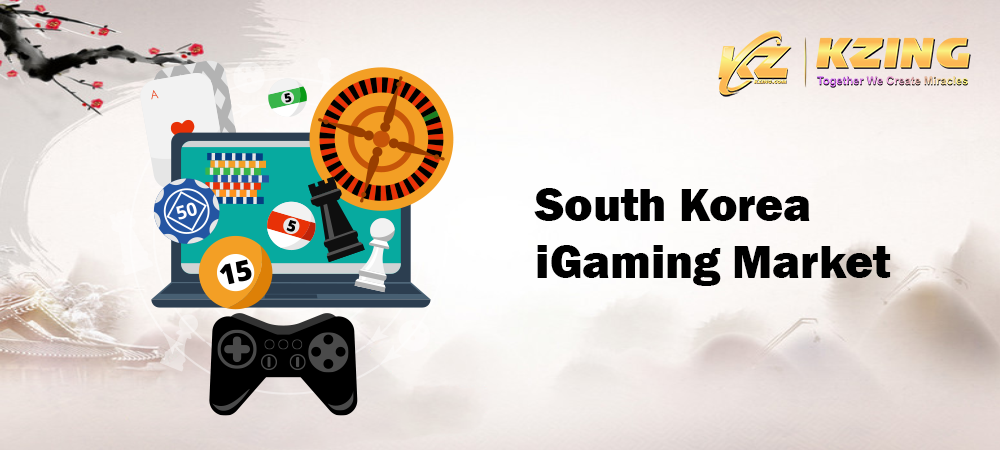 South Korea is at the forefront of the global iGaming revolution. With a growing middle class, soaring smartphone adoption, and a strong digital entertainment culture, it has become a thriving online gambling market. The Korea online gambling market size is expected to reach US$ 1.24 billion by 2027. Operators aiming to tap into this opportunity must grasp the unique dynamics that shape the South Korean iGaming landscape.
Recent years have seen a surge in online gambling in South Korea, thanks to widespread smartphone use and high internet penetration. These tech advancements have not only widened access to iGaming platforms but also expanded the potential user base. This presents a promising prospect for operators looking to establish a presence in this dynamic market. While legal constraints persist, discussions on regulatory changes hint at a potentially more open approach to online gambling.
For operators eyeing the South Korean market, staying informed about regulatory shifts, aligning offerings with player preferences, and exploring local collaborations are crucial steps. With the right strategy, the South Korean iGaming scene offers abundant opportunities for innovative operators.
Localised Web Experience
The visual aspect of an online gambling platform plays a pivotal role in attracting and retaining players. A well-designed website template that resonates with Korean culture and aesthetics can set a brand apart from the competition. Utilizing colors, symbols, and themes that resonate with Korean traditions and values can create a sense of familiarity and trust among local players.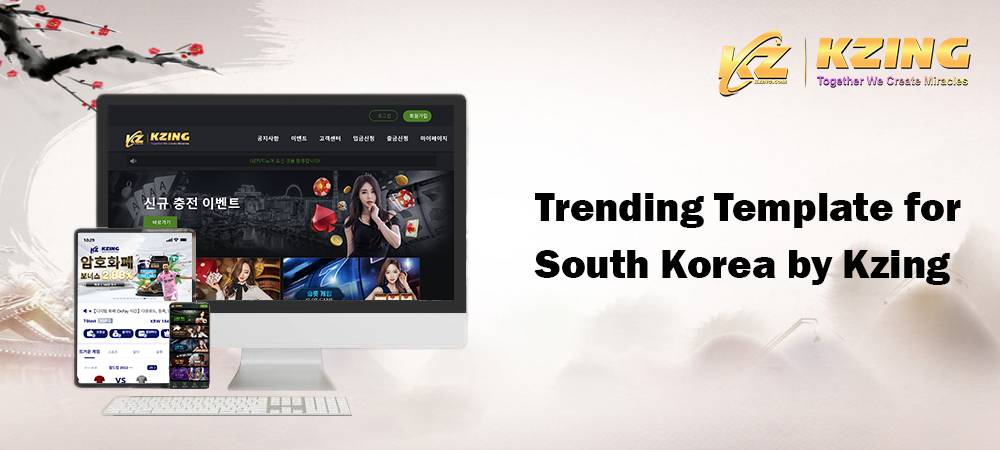 White label online gaming platform providers like Kzing can offer operators responsive websites and even APP with local language options and payment gateways catering to the South Korea market.
Tailoring Platform Features
To thrive in the dynamic online gambling industry in Korea, operators must meticulously customize their platforms to meet the distinctive demands of local players while navigating the regulatory framework. This entails a multifaceted approach aimed at enhancing player satisfaction and engagement.
Language Localization
Effective communication is the cornerstone of a successful iGaming platform. Localizing the platform to the Korean language is not merely a matter of translation; it's about creating an immersive experience that resonates with Korean players. This includes providing content, customer support, and user interfaces in Korean, making players feel right at home.
Seamless Integration with Marketing Channels
Effective marketing is indispensable in reaching and retaining South Korean players. A customized platform should seamlessly integrate with Korean marketing channels, including social media, online communities, and advertising platforms. By utilizing these channels effectively, operators can boost brand awareness and drive player acquisition.
Enhancing Player Engagement
The Korean iGaming market is highly competitive, making player engagement a critical success factor. Integrating cutting-edge features like virtual reality experiences and live dealer games can set a platform apart. These immersive elements elevate the gaming experience, keeping players engaged and excited.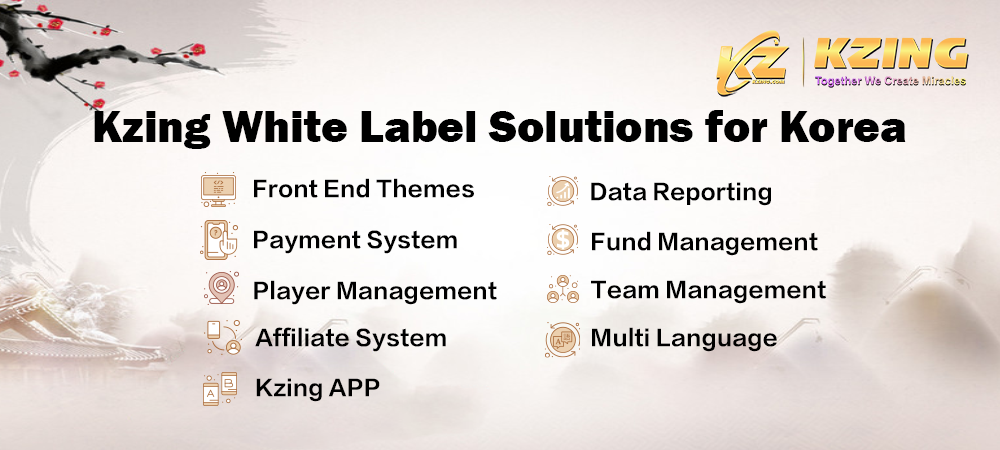 Kzing's all-in-one front and backend solution ensures that operators can quickly enter the Korean iGaming market with all the tools required to craft the optimal player experience. From responsive web themes and APP in the local language, to social media integration, and features like Player Management, Rewards and Bonus System, and more.
Popular Casino Games Amongst South Korean Players
Slots
Where a fast-paced lifestyle and a constant appetite for entertainment are the norm, slots have emerged as a favored choice among many players. The appeal lies in their inherently rapid gameplay, providing instant excitement and the potential for quick wins. This preference is further amplified by the seamless accessibility of slots on mobile devices. With the convenience of playing anytime, anywhere, players can engage in these exhilarating games on their own terms, adding an extra layer of enjoyment to their gaming experience.
Live Casino
With real-time interaction and the immersive experience of a live dealer, they provide a unique blend of traditional and online gaming. This format caters to players seeking an authentic, land-based casino atmosphere from the comfort of their own space. The availability of live casino games on mobile platforms further enhances accessibility, allowing players to engage in real-time gaming sessions on their terms.
Sports Betting
South Korean players are avid participants in sports betting activities, with baseball, football, and basketball being some of the most popular. Additionally, horse racing captures a significant share of the betting market, with events like the Korea Cup attracting large audiences. Esports betting has also witnessed a surge in popularity, given South Korea's prominent position in the global esports scene.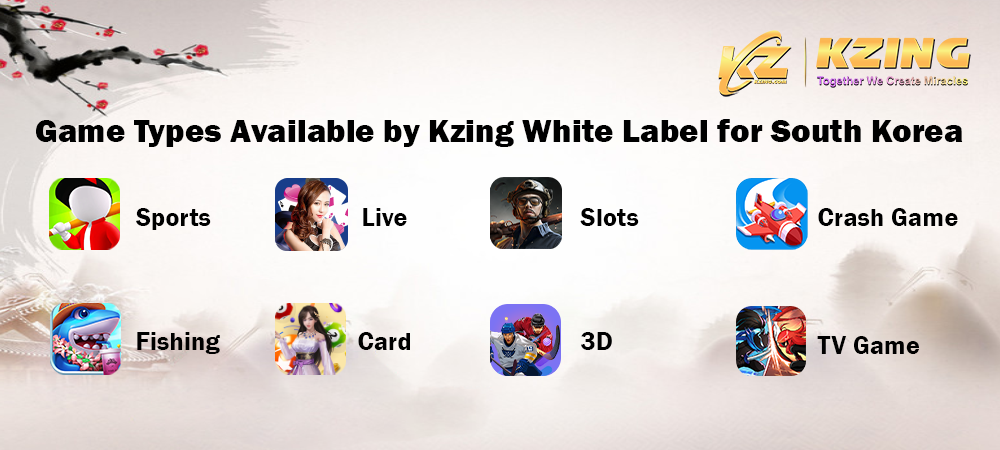 White label providers like Kzing work with gaming platform providers to offer over 100 games from sports betting, slots, live casino and more, enabling potential operators to meet the popular demands of the South Korea market.
Stable GGR for Operators & Players Alike
A stable Gross Gaming Revenue (GGR) holds paramount significance for operators venturing into the South Korean online gambling market. This metric reflects the total revenue generated by the platform, after deducting player winnings, before accounting for operational costs and other expenses. Why is stable GGR important?
Financial Viability
Ensures long-term sustainability and competitiveness.
Investor Confidence
Builds trust and attracts further funding and support.
Risk Mitigation
Provides resilience against market challenges and disruptions.
Player Trust
Inspires confidence and encourages player loyalty.
Stable GGR lays the foundation for a reliable and substantial revenue stream in the iGaming venture, guaranteeing enduring success
Nurturing Player Satisfaction in the South Korean Gambling Market
Given the discerning nature of South Korean players, operators must recognize the importance of patience and attentiveness in addressing their concerns. Timely responses and a willingness to listen go a long way in building trust and loyalty.
Furthermore, providing resources for responsible gambling and offering support for players experiencing difficulties demonstrates a commitment to their well-being beyond just profitability.
A genuine and empathetic approach not only fosters positive player-operator relationships but also sets a platform apart as one that truly values its players' experiences. A happy player is more likely to remain engaged and, in the long run, contribute to the platform's sustained success.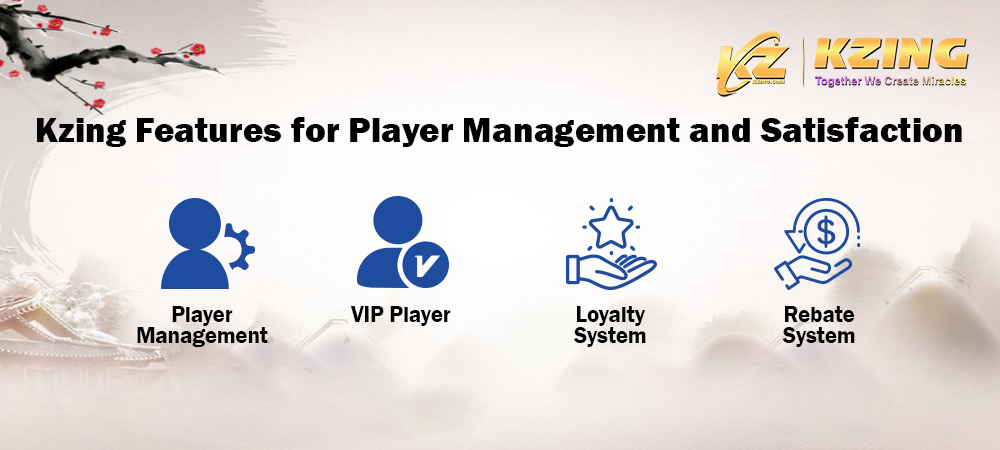 Kzing white label features like the Loyalty System is a valuable tool for operators to keep players happy. Operators can set up campaigns that reward players for the time spent playing, and even reload bonuses to get players coming back even after losses, with a VIP Player feature that encourages players to reach new levels.
Choosing a Suitable Korea White Label Gaming Solutions Provider
Selecting the right white label gaming solutions provider is a critical decision for entering the gambling market in South Korean. Here are some key factors to consider:
Customization
Look for a provider that offers a high degree of customization to adapt to local preferences and requirements.
Gaming Platforms
Assess the range of games the provider offers, including traditional Korean games and globally popular options.
Payment Options
Ensure that the platform supports local payment methods, making it easy for Korean players to deposit and withdraw funds.
Technology and Security
Evaluate the platform's technology stack and security measures to protect player data and transactions.
Marketing Support
Seek a provider that offers marketing tools and expertise to help promote the platform effectively in the Korean market.
Customer Support
Responsive customer support that understands the local culture and language is essential for player satisfaction.
Conclusion
The Korean iGaming industry offers significant growth prospects for enterprising investors. Key factors for success include deploying tailored white label solutions, designing website templates that resonate with local preferences, and understanding the player base. Nonetheless, it's imperative to remain flexible and vigilant, as the regulatory environment in Korea may undergo changes that impact the online gambling landscape. Selecting a reputable platform provider is a pivotal step in navigating this dynamic and promising industry.
Take the first step toward a flourishing online presence by teaming up with Kzing, your reliable ally. With a proven track record of satisfying over 1000 clients, we bring unmatched technical proficiency and market intelligence customized to your requirements. Discover how we can enhance your platform's success by visiting our website at kzing.co or reaching out to us today.