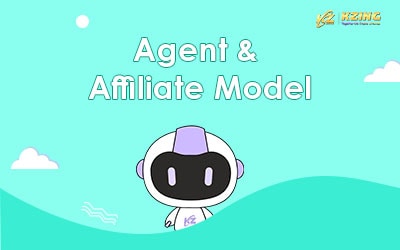 In the past, all forms of business needed various types of active marketing to support their rapid growth. Although gambling has been considered the most ancient form of entertainment and most iGaming styles have been designed to make it easy to adapt to for players, the low barriers of entry to the industry have brought along rigorous competition among industry players. In a competitive industry, there are only two possibilities that make an outstanding business which includes (1) an astonishing product, or (2) an outstanding marketing plan. White label service has been made common in the iGaming industry. As such, outstanding marketing became one of the main criteria for success in the market. With that, the agent and affiliate model were conceived as a result.
An agent represents its principal to handle matters that are supposed to be handled by the latter. The agent receives an agreed amount of incentive in return. For instance, if a friend has 100 units of a beauty product and charges you $5 per bottle with no limitations on how you can sell it, you can appoint a sub-agent and sell it to the sub-agent for $8 per bottle. Again, you do not limit how the sub-agent should sell it. Ultimately, the sub-agent sold it off for $10 per bottle. From that, you receive a rebate of 60% whereas he receives a rebate of 25%. The agent and affiliate model allow a better method of promoting the platform, indicating its importance.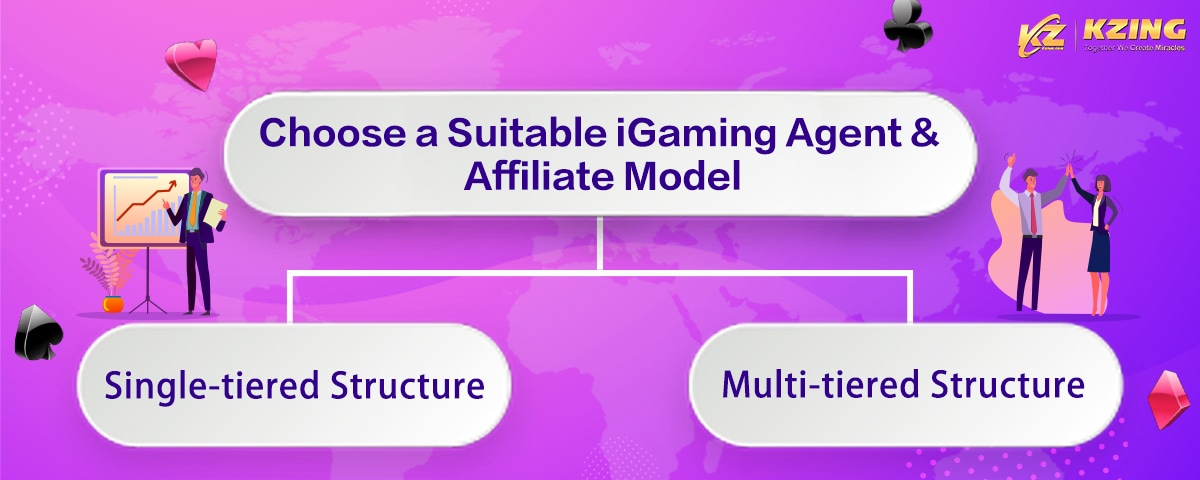 How should we choose an iGaming agent and affiliate model?
There are a few types of agent and affiliate models in the iGaming industry. There is the single tiered structure and multi-tiered structure that helped iGaming reach higher levels. Both models have their advantages, it only boils down to which model better suits you.
1. Single-tiered Structure
Pyramid-type model that can expand to multiple levels such as shareholders, general agents, first-level agents, and second-level agents. This model is very common among microbusinesses in Southeast Asia. Normally, the agent with the highest level gets the largest percentage in terms of overriding commission. Agents will directly participate in the distribution of incentives which encourages agents to actively recruit new players.
2. Multi-tiered Structure
It can be understood as a type of business development model that brings in new players via friend referrals. Incentives are usually derived in the form of rebates and points from the betting amount of the tagged new player. Every player is both the agent and player at the same time. Players will put in a collective effort to bring in more new players and boost the popularity of the website. This model has withstood the test of time on the APP by introducing new players to the platform via word-of-mouth.
How Do Agents Actually Earn Incentives?
Incentive Payouts Tied to Winnings and Losses. The incentives are paid based on the winnings and losses. It is also known as rebates. Based on the total winnings and losses of the players tagged under the agent, the incentives will be calculated with an indicated percentage. Usually, incentive payouts are ranged from a rate of 10% to 30%. If the total winnings and losses of a player's tagged member are $10000 and the incentive payout rate is at 10%, the take-home incentive payout will be $1000 in total.
Incentive Payouts Not Tied to Winnings and Losses but Based on Turnover Rate of the Table Commissions. It is calculated based on the effective betting amount of all members tagged under the agent. Usually, incentive payout rates range from 0.1% to 0.4%. For example, if the tagged members have a total betting amount of $10 million for that month, the agent will receive a payout between $10,000 to $40,000 for that month.
Incentive Payouts are not Tied to Winnings and Losses but based on the total amount of top-ups by all tagged members under the agent.
Referral Fee payouts that are similar to pyramid schemes. This type of incentive payout will calculate incentive payouts based on the number of tagged members that reloaded. Every platform has different referral fees, commission payouts, etc.
Incentive payout method that is an advanced version of the pyramid scheme. A second-level agent that is introduced by the first-level agent will enjoy a payout rate of 20%-30% in succession. If the second-level agent's payout is $10,000, the first-level agent will be able to receive a cut of $2,000-$3,000. If a first-level agent has 5 second-level agents tagged under him or her that receive the same value of payouts, the said first-level agent will be able to receive a cut of $10,000-$15,000 from them. It is no longer a mere dream to earn a five-figure monthly income effortlessly.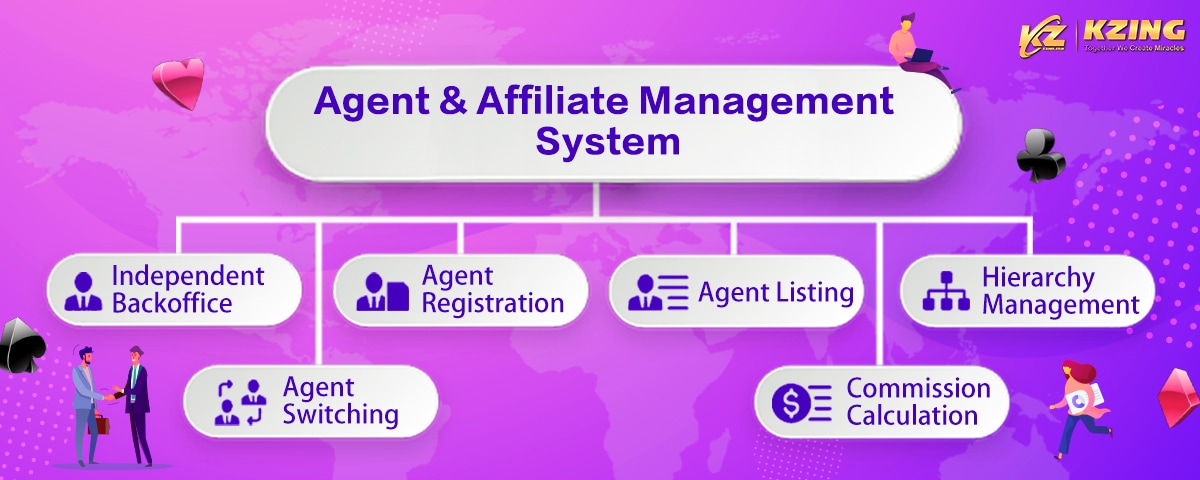 Kzing White Label's one-stop white label services also include an agent and affiliate system that has propelled the iGaming industry towards rapid growth. It can support multiple types of common models. Our iGaming agent and affiliate system covers the below functions:
Independent Back Office for Agents
Agent Registration
Agent Listing – View or Edit Agent Information
Level Management – Flexible adjustments for level payout ratios and commission rates
Agent Switching- Flexible amendments of player's assigned agent (Can be switched to weekly settlement/monthly settlement
Commission Calculation

Allows you to have the flexibility to set up different commission rates, payout ratios, and platform fee ratios.
Automatic settlement of cashback and commissions by the system.

Allows Automatic Distribution of Incentives
Set Up Agent Titles, for Marketing and Promotion purposes
To achieve outstanding marketing for the iGaming platform, additional effort should be invested into the promotional and marketing strategy of the platform. The simpler the promotional strategy and the easier it is to earn incentives; the more agents can be brought in to raise overall marketing manpower. Kzing White Label launched the single-tiered structure and multi-tiered structure with its convenience for the system and users in mind. By emphasizing the system's user-friendliness and smoothness of the agent and affiliate system, it will ease up the daily business activities of the management of your corporate team and agents.
Transparency of the System – Agents will have their personal promotional link and cashback amount report.
Settlement of Agent Big Data – Analysis can be carried out on the company's total revenue, cash flow, agent turnover, and sales. This helps the management in understanding trends and the effectiveness of each agent and each channel while rapidly increasing total sales through marketing.